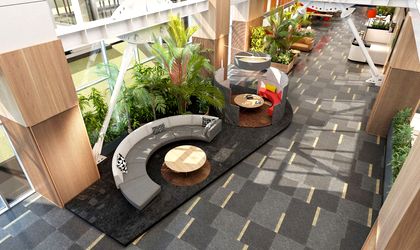 OTP Bank Romania has financed the acquisition of Green Park Iasi by the Interdoga Group GMBH and Interdoga SRL with EUR 5 million. Green Park is the first and largest residential project in Iasi.
The Interdoga Group GMBH and Interdoga SRL announced in April 2018 the reopening of the Green Park Iasi project with the support of a German investment fund. The financing provided by OTP Bank Romania is part of a project aimed only at the acquisition of 181 existing apartments, the rest of the works related to the renovation of the facades of the existing blocks, the restoration of the green spaces and the construction of new blocks in the extension of the neighborhood, supported by their own sources.
"We are honored to support the development of the largest residential complex in an area with development prospects, such as Iasi. Funding for the Green Park Iasi project is found in our strategy of engaging in real estate projects that can help boost the local economy," said Bogdan Teodorescu, Corporate Network director, OTP Bank Romania.

"Green Park Iasi is the most ambitious project started in Iasi, a modern and accessible residential center. Our efforts have been supported by a strong and trustworthy partner, such as OTP Bank Romania, which has given us the financial support we needed," said Yusuf Capan, Interdoga SRL.
The Green Park Iasi project is located on Fântânilor Street and covers an area of ​​40,000 sqm, including more than 750 apartments and other blocks to be built.