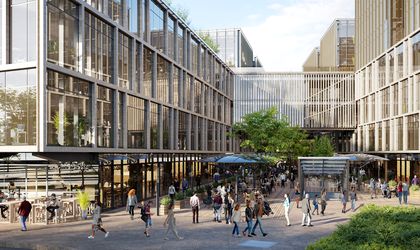 Palas Campus will host Visma's first offices in the north-eastern region, a software products supplier for the automation and handling of business management processes. The company will occupy a 1,400 sqm area in the latest urban regeneration project in Iasi downtown, joining the business community that has developed in this area of the city, a community that includes big players in the IT, banking, health and pharma, automotive industries and many more.
Visma Software Romania, the company that provides software products which simplify and automate processes in a comprehensive range of businesses, including accounting, financial management, acquisitions, human resources and payroll for the private, public and education sectors, will open their first office in Iasi. Thus, the Visma engineers will design the products of the future in Palas Campus – a project developed by IULIUS – where 100 additional colleagues will join them by the end of 2023, people who are passionate about software development and testing and greatly willing to learn new things.
"We have big plans for development in Iasi. As of 2023, Visma will be moving to Palas Campus, a project that combines the fixtures of a premium office building and a multitude of facilities useful on a day-to-day basis for our employees, and which will become a space for innovation and collaboration. Because, even though the future is hybrid, we wish to also provide our teams with the option to collaborate in a creative community such as the IT hub in Iasi that has had the fastest development in this field in Europe", stated Daniel Reisenauer, Managing Director of Visma Software Romania.
The new Visma headquarters will be located in the office portion of the mixed-use complex Palas Campus, which includes a variety of facilities for the employees, such as: various lunch-break options, green areas for relaxation or for a "different" day at work in the office, customized loyalty programs and proximity to the Palas Iasi mixed-use complex.
"We will implement the office of the future concept, and it also includes designing the interior space by bringing into the office different comfort and design elements which fit the Visma vision and borrow aspects from the northern culture", added Daniel Reisenauer, Managing Director of Visma Software Romania.
Palas Campus is under construction, and it quickly stirred the interest of large international companies that want a core downtown location and premium office spaces, thus, a new pole of innovators in various fields is already emerging. The largest office building area -wise in Romania will be completed this year, and the opening will occur in the first quarter of 2023.
Moreover, this will be Visma's second office in the office network of the IULIUS group, after the company opened 4,200 sqm headquarters in United Business Center 3 at Iulius Town Timisoara in 2019.