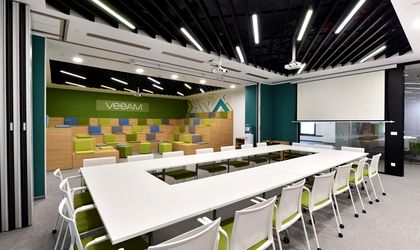 Veeam Software, the leader in backup solutions that deliver Cloud Data Management, has announced that it would lease another 2,300 sqm in Business Garden Bucharest in order to accommodate its growing team in Romania. The company is planning to grow its team by 50 percent this year, reaching 600 employees at the end of 2019, compared to 400 at the beginning of the year.
The new office space, located in a modern A+ building recently built in the proximity of the easily accessible Grozavesti area, will add 250 working stations to cater to the expansion of Veeam's Romania team over the next three years. Together with the 3 floors the company has in AFI Park 5, Veeam Software has reached almost 7,500 sqm in Romania.   
"We have grown locally at a very fast pace, evolving from zero to a company with over 400 people in only 3 years. Expanding our workspace was a natural step, as we plan on continuing to grow our local team, by adding valuable, talented people to our hub. Veeam Software differentiates itself through the career path approach available to our team members. As such, they can build an end-to-end career, following all phases of a product lifecycle: from marketing to sales, finance and technical support. We are committed to offering our employees a clear path to grow and develop within the company, by providing them with constant opportunities to evolve and acquire new skills. As a result, over 20 percent of our employees have been promoted, either vertically or horizontally, since we started our operations in Romania," said Andrei Romanescu, Managing Director at Veeam Software Romania.
The continuous local growth and expansion is in line with the strong results of the parent company. Veeam Software has just reported a 26 percent YoY increase in global annual recurring revenue for Q2 2019, and has recently exceeded USD 1 billion in annual bookings. 
Veeam Software's Romania branch is the company's largest hub in Europe, with a multicultural work environment, gathering 17 different nationalities that speak 19 different languages. 
The company is continuously looking to attract talents to join its team – both fresh graduates and experienced professionals aiming for a career in sales, marketing, finance or technical support. Aside from development opportunities, employees enjoy a thoughtfully built benefits and perks package, comprised of two components: a fixed one, which includes benefits such as healthcare services and meal vouchers, and a flexible one, which allows each employee to choose from a range of benefits that suit their needs.
The flexible component includes benefits such as dental care services, parking spaces or gym subscription. Veeam frequently updates the benefits package to better cater to the needs of its team members. This year, the company operated an upgrade to the healthcare services benefit and increased the value of meal vouchers. It is planning to add two more benefits, namely insurance for the employees' children and book subscriptions.