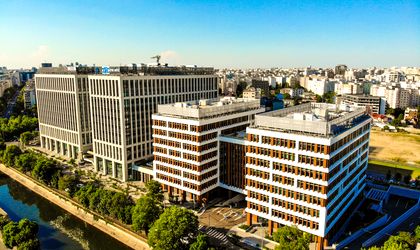 Vastint is an international real estate organization with over 30 years' worth of experience, active on the Romanian market since 2008. Development activities include land acquisition, master planning, design, construction, leasing and sales.
Vastint Romania's most important projects in Bucharest come with attractive facilities and are in some of the best locations in the city.
Timpuri Noi Square is designed as a dynamic new urban pole, providing an interactive, friendly environment with a unique identity. As one of the five key urban poles, crossing Bucharest City Center, Timpuri Noi Square provides working, leisure and living functions, integrated into a mixed-use environment – modern, class A office complex, retail spaces & plaza.
LEED PLATINUM certifications have been granted for all three buildings included in the project. The first two buildings were certified in 2018, and the third one in 2020. The office development is designed in a distinctive way, with a particular focus on green solutions & energy efficiency, emphasizing quality by modern simplicity and natural stone.
Key technical amenities:
Class A office finishes and construction materials, modern simplicity and natural stone; Regenerative drive type elevators; Cooling system for server rooms, included in base-build; Back-up generator for life safety systems, included in base-build; Highly flexible internal partitioning options through structural layout; Flexible fit out through raised floors and band-raster suspended ceiling; 3-meter floor clear height; Windows that open every 2.7 meters; Superior ventilation capacity HVAC systems, with 100% fresh air supply; Energy-saving electrical equipment and LED lighting; Increased natural light provision and views of the outdoor surroundings.
The first Business Garden complex in Romania and the sixth of its kind across Europe, Business Garden Bucharest provides prime office location with easy access and consists of three mid-rise buildings surrounded by a garden.
Business Garden Bucharest is located in District 6, just 10 minutes away by car to the city center, while at the same time being adjacent to the well-established Carrefour Orhideea shopping center. The prime office location allows easy access by subway and train, as well as by car and other means of public transport.
The project features three mid-rise office buildings, in combination with commercial and public services, all integrated in a green area – a spacious internal garden with designated recreation areas. Efficient office layout, high standard finishes and sustainable solutions in line with LEED Certification, as well as varied services and amenities will be provided within the complex to support the tenants and the everyday life of their employees.
At the start of 2020, the three Business Garden Bucharest office buildings received LEED Platinum certification, reaching the third highest LEED score Worldwide for building A, for Core & Shell category, with 98 points and second place in Europe, followed closely by the other two buildings B & C. Business Garden Bucharest becomes the office project with the highest LEED score in CEE.
Key technical amenities
Spacious internal garden, extended common space; Cyclist friendly – covered parking, showers and lockers for cyclists; Intelligent energy saving systems; Excellent natural light provision for visual comfort; Low energy centralized system for cooling; Silent and healthy air conditioning; Rainwater will be captured and stored for use in irrigation of relevant areas; Waste recycling facilities, high amount of recycled and regional materials; Energy-saving LED and electrical equipment; Manually operated windows; Improved indoor environmental quality – ventilation system and thermal comfort control; Suspended ceiling with band-raster; HVAC 100% fresh air supply.