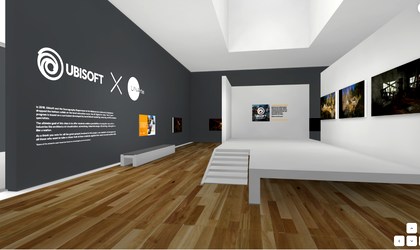 Ubisoft Romania, the leader of the local gaming market, announces significant changes for the studios in Bucharest and Craiova. Two new locations have been specially designed to reflect the DNA of the company's entertainer and were recently inaugurated by the nearly 2,000 employees.
Located inside the J8 Office Park, the new headquarters in Bucharest has a total area of ​​23,000 square meters and brings together 1,800 employees. The change is also present in Craiova, where the 150 employees of the studio have already moved to Electroputere Parc, in a space with a total area of ​​2,000 square meters.
The new offices provide employees with optimal conditions for carrying out the activity and mark a new beginning for Ubisoft Romania. The events are part of the long-term strategy of the company, which aims to become a lead site for future Ubisoft titles and international projects and, thus, position Romania on the map of the big players in the gaming industry.
The studios have been arranged with an emphasis on the well-being of the employees on the development of their productivity and creativity. They include numerous recreation spaces, games rooms, shared workspaces, individual offices, meeting rooms, and generous dining spaces like a cafeteria. The new offices reflect the ambitious culture of the company, creating a mix of experiences and benefits that meet the diverse needs of employees in Bucharest and Craiova.
The two studios celebrated the inauguration of the headquarters through internal activities, including the presence of food trucks and a photo booth in each location. On that occasion, the employees reviewed and reconnected after two years of working from home.
"All our employees in Bucharest and Craiova now have a modern workspace, which will meet all their needs. The two offices offer us suitable environments for developing new entertainment experiences with global impact and fulfilling a new ambition – becoming a regional hub of the gaming industry. These are just the first step in our journey to turn Ubisoft Romania into the most desired employer in the entertainment and tech industry. With this in mind, we recently launched a series of internal programs for all employees, focusing on well-being, learning, and development, and this is just the beginning ", said Cristian Pană, Managing Director of Ubisoft Romania and Serbia.