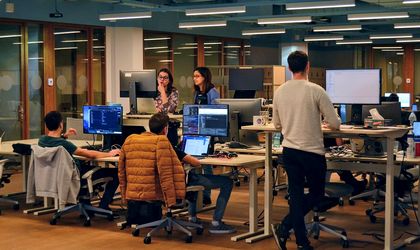 Tradeshift, a leader in payments in the supply chain and marketplaces, has moved its Bucharest team to a new headquarters in Tower Center.
Tradeshift's move coincides with a period of sustained and exponential growth of the company, both in Bucharest and globally. Since June 2018, when it officially became a unicorn, Tradeshift has doubled its number of employees in Bucharest, with 144 new "Tradeshifters" having joined the team of developers, business analytics specialists, human resources and financial specialists.
Tradeshift estimates that employment in Bucharest will continue at a similar pace over the next year. Moving to new offices will allow for this growth, providing employees with a comfortable space.
As one of the company's research and development centers, the Bucharest headquarters plays a strategic role in the company's core activities in the field of app development and cloud infrastructure for the global market.
"Romania is well known for its professionals who are full of technical and creative talent. Our new offices in Bucharest offer us the inspiring space we were looking for to bring together these professionals. If you are an innovative person, looking for challenges, taking responsibility and appreciating the work in a company whose mission is to change the world for the better, visit us in the Tower Center and meet the team," said Eric Knauf, Head of Talent Acquisition at Tradeshift.
In the coming months, the Tradeshift team in Bucharest will host a series of meetings with developers in the new offices.