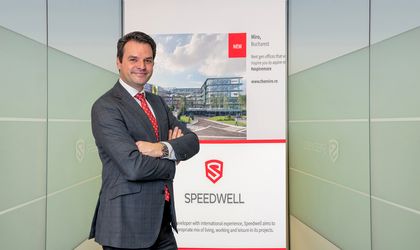 Speedwell, one of the most dynamic developers on the Romanian market, joined hands with BuildGreen and obtained the WELL v2 precertification for MIRO, the class A office project developed by the Belgian company in the northern part of Bucharest. This is the highest level of WELL certification obtained to date in Romania, as well as the first project precertified under the new, stricter version of this methodology.
WELL is the leading tool for advancing health, safety and well-being in buildings globally. Registering offices, buildings or other spaces leverages WELL's flexible framework for improving health and human experience through design. WELL v2 is the most rigorously tested and vetted version of the WELL Building Standard (WELL) to date, making it the premier framework for advancing health and well-being around the world.
The WELL certification adds a "greener" note to the current labor market conditions regarding the health and safety of buildings' users.
MIRO is the latest office project of Speedwell, the Belgian development company recognized as one of the most active players currently on the Romanian real estate market. Located in the northern side of Bucharest, MIRO is a class A office building totalling 23.000 sqm leasable area spread out over 5 levels, with large 4.570 sqm floor plates, 1:40 parking ratio, a 1.700 sqm outdoor plaza and 558 parking spaces.
Since sustainability is a priority for all Speedwell's projects, MIRO was designed to achieve a BREEAM Excellent rating and a WELL certification, focusing on environmental and energy efficiency while applying the latest technology. The concept behind MIRO office building is based on three simple principles: well-being, accessibility and visibility. The project aims to create a flexible and healthy environment and to combine work, leisure, facilities and green spaces, all monitored by the newest technology on the market, in an accessible location. As a result, approximately 70% of the office space has been pre-leased up to date.  The construction works for MIRO started in July 2020 and are expected to be finalized by the end of this year. For more details about the project, please see the attached property description.
"Sustainability is a mandatory aspect for future proofed buildings. We all are responsible for using resources efficiently and, we, as developers, must take responsibility for the standards we are building at. That is why it is essential to create next generation buildings. As a result, we have designed our office project, MIRO, to achieve a WELL certification, a tool for advancing health and well-being, used at a global level, and we are proud to having obtained a platinum rating. Building high standard projects is one of our focuses, and sustainability has always been part of it", declared Didier Balcaen, CEO and Co-Founder Speedwell.
—
"The implementation of health, well-being & safety principles in real estate developments already became a practice in the past couple of years. Speedwell is an active promoter of sustainable development in Romania and among the early adopters of WELL Health & Safety standard on the local real estate market. We are proud to accompany Speedwell in taking this new step and reach the highest level in WELL precertification at this point in Romania", stated Razvan Nica, Managing Director BuildGreen.
BuildGreen assisted the client from the beginning, offering consultancy and assessment services in line with BREEAM and WELL requirements, advice for sustainable design and acquisitions, as well as BREEAM and WELL strategy definition, health & safety solutions, energy performance, natural water and ventilation optimization, materials, waste management etc.
Founded in 2010, BuildGreen is one of the most active consultants in the field of sustainable development, with an expertise that covers over 17 European countries. In its 10 years of activity, BuildGreen managed the sustainable development and certification processes of over 200 real estate projects, with a surface of over 5 million sq.m. and an overall investment value of over €8 billion. Razvan Nica, founder and managing director of the company, is also the first BREEAM International Quality Auditor outside the UK, a position from which he supervises BREEAM certification processes across the entire Globe.