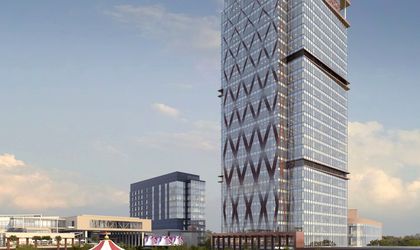 IULIUS Company, the real estate developer controlled by Romanian businessman Iulian Dascalu, has kicked off the construction of the tallest office building in Romania. This will be the fourth office building of the Openville Timisoara project and will be spanning on a 155 m height and 27 floors.
The new building called United Business Center 0 (UBC 0) should be finalized by the fourth quarter of 2019. It will comprise a built area upwards of 74,900 square meters, including office and retail components. The total office leasable area stands at 52,000 sqm.
Within the Timisoara-based complex, the developer is currently working on the third office building (19,000 sqm leasable area), as well as for additional retail premises adding up to approximately 47,000 sqm. Two office buildings with a 31,000 sqm total leasable area, as well as the first multilevel parking facility in Timisoara with 910 parking spaces were completed to this date in the Openville project.
The first phase of the project will be completed at the end of the year, including retail premises, 50,000 sqm of class A office premises in operation and another 52,000 sqm pending construction, a park, a traffic underpass and new parking spaces.
The Openville Timisoara project is jointly developed by IULIUS and Atterbury Europe and requires an estimated investment of EUR 220 million.