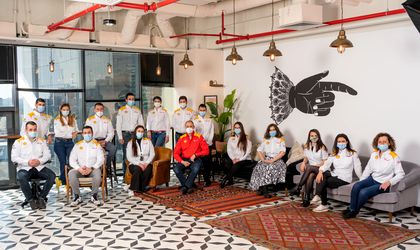 Mindspace, the global boutique flex space provider, announces Shell as the newest member of its Pipera Business District location. For the company's entry to the Romanian market, Shell has taken over 83 working stations at Mindspace Business District, for a period of 2 years, making it the company's headquarters in Romania. The Shell team will enjoy a completely new fit-out of the space, created especially to accommodate their needs: a private quarter area with private access, a private lounge space, among other amenities, dedicated solely for the team.
"It is really important for us to ensure an appropriate workspace for our team. Especially in these particular moments when office and home became a fluid notion, the belonging to a place is even more relevant. We feel welcomed in our premises, the Mindspace team took the extra mile in securing our needs: placement, looks, privacy and facilities. We feel our newly formed team of 57 people is enjoying coming to the office and it is supported in its mission to deliver best of class services for our commercial road transport customers" said Liliana Stănculeț, Marketing Manager Shell Romania.
In addition, the Shell team will have access to all Mindspace member benefits, such as access to meeting rooms, one-to-one private booths, weekly lunches or networking dinners and special events (physical and virtual) created just for the Mindspace community. Mindspace members have access to all Mindspace locations globally and can work from anywhere in the world, at no additional cost. This year alone, Mindspace opened two new locations, of which Mindspace La Guardia in Tel Aviv and Mindspace Wanamaker in Philadelphia, and also expanded its Mindspace Skalitzer branch in Berlin. As the demand for flex office space is rising, Mindspace is expecting continued growth.
"We're extremely happy to welcome Shell to our growing community of customers. Mindspace is seeing a gradual increase in demand in countries that are rolling out their COVID-exit strategy, and we believe that Romania will follow suit. Worldwide, the demand for flexible office space is expected to grow post-pandemic as companies seek solutions that offer high flexibility at a low commitment.", said Mindspace CBO and Co-Founder Yotam Alroy. "To meet increased demand for ultra-flexibility as well as adapt to consumer needs, we recently launched a series of 'Hybrid' products, offering access on-demand to day passes, multi-access passes and even hybrid offices.", adds Alroy.
Mindspace opened its first location in Romania in December 2018, in the Tower 1 office building of the Globalworth Campus. In April 2019, it was followed by the second space, Mindspace Victoriei, located in the Bucharest Tower Center. Romanian Mindspace members are a part of a global community of over 15,000 members, spanning over 31 locations in 16 cities and 7 countries. Among the diverse Mindspace member base are corporations such as Barclays, Samsung, Taboola, Yahoo, Expedia, and Microsoft.