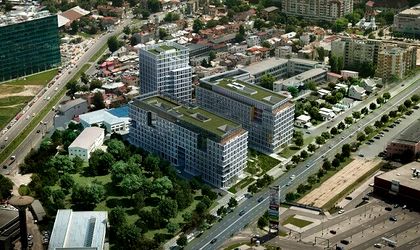 Romania's real estate developers have announced projects for office buildings totalling approximately 380,000 sqm for 2019 and 242,000 sqm for 2020. This year, deliveries of such spaces will see a 55 percent growth compared to 2017, according to an analysis by ESOP Consulting | CORFAC International, cited by Agerpres.
By the end of 2018, 23,500 employees will be moved to new, state-of-the-art office buildings. This year will see 224,000 sqm of Class A office buildings being put to use, and 84 of these spaces will open in the second half of the year, the report says.
Most office buildings will be delivered in the central-west area, which this year recorded the highest pre-lease levels. Large surface deliveries will follow, as they are generally parts of projects that include multiple phases, located close to Line 1 of the Bucharest subway.
"These locations have been highly sought-after in the past years, as they have good accessibility and reasonable parking facilities. Furthermore, the areas have constantly developed in the past years with a commercial infrastructure that is appreciated by the leasers of office buildings: malls, retail galleries, restaurants, medical centers, as well as existing facilities like schools, kindergartens and universities," say the representatives of the consulting firm.
Among the most anticipated buildings is Campus 6.1 near the Polytechnic University of Bucharest, the first building of the Campus 6 project, which will have a virtual reception and will provide the first smartphone app to allow employees to control their workspace (access, temperature, lighting). Another project to soon deliver spaces in the central-west area is AFI Tech Park, with a total of 22,000 sqm. Also by the end of this year, the Day Tower and Unirii View office buildings will be delivered, both in the central Unirii area. As for the central-north area, only one building will be open this year – Globalworth Campus Building B.
The newest office cluster emerging in the Expozitiei area will open its first offices starting in 2019, when the first two class A office buildings will be delivered as part of the Expo Business Park project. According to ESOP, City Rose Park 1, the main competitor of this project in the Expozitiei area will deliver its first office spaces starting in 2020. In total, 94,000 sqm will be built in the area.
In 2019, the Equilibrium, Globalworth Campus Building C and Oregon Park Building C will be open in the Barbu Vacarescu area. In total, in the center-north area, 137,000 sqm of office buildings will be delivered in 2018-2020.