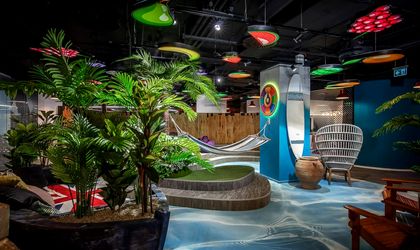 CBRE, the leader of the real estate consultancy market, assisted Playtika Romania (Playtika), a mobile gaming entertainment and technology market leader, in determining the most efficient real estate strategy in terms of operations and cost efficiency. The consultancy firm performed a complex analysis and provided relevant data that considered all the suitable alternatives in the market and studied the group's growth strategy and employees' preferences.
CBRE worked with Playtika's management team across Romania and Israel to determine the full financial and operational implications of this decision, equipping Playtika with all the critical information needed to conclude that a renewed partnership with Vastint Romania and its' mixed-use project Timpuri Noi Square was the best option for the company moving forward.
This decision has been motivated by several factors as: the competitive commercial terms as well as by the ideal geographical location of Timpuri Noi Square mixed-use project, with the proximity to public transportation and to well established residential areas, the amenities offered by the project as well as the premium technical quality and design of the office project. Playtika's investment in the office build-out, an innovative one that is over 50% above market standards costs-wise has also been an important factor when reaching this decision.
"After taking a few months of analysis, we were able to synthesize all the data related to each scenario, including the financial values of renewing the existing contract or relocating to another property, which involves a variety of costs, as well as all the data related to the group's growth strategy, proximity to talent and employee preferences, information that allowed Playtika to make the most informed decision with peace of mind. We are pleased that CBRE's extensive expertise was useful to our partner and that we were able to support Playtika in making the best decision", stated Andrei Gavrilovici, Senior Consultant Advisory & Transaction | Office, CBRE România.
Playtika has been a leader in the games industry for almost a decade, with a leading portfolio of casual and social casino game titles. Since 2010, the company has been a leader in the games industry and among the first to offer free-to-play social games on social networks and, shortly after, on mobile platforms.
"Playtika's main priority is to provide the most comfortable, efficient, and collaborative working environment for the company's best in class talent. Coupled with CBRE's insightful data and negotiation tactics, an additional agreement was reached with the office property owner Vastint Romania. We are confident that the current location will continue to provide the best support for developing our business" stated Ana Tudor, Regional Site Manager, Playtika.
In Romania, the company has team members across Research and Development, Art, Creative, and Product, as well as a dedicated Customer Support Center that takes care of players' needs and ensures they have an exceptional gaming experience.
With 30 years of experience in real estate development in Europe, Vastint Romania already delivered locally over 100,000 sqm GLA of operational LEED premium certified office spaces, by its' projects Timpuri Noi Square and Business Garden Bucharest- both positioned in the top 5 office projects in Romania starting 2017 through the quality and high standards offered in the local real- estate market.
"In Vastint Romania, we always like to emphasize the importance of our partnerships. Our business fundaments are built on strong relations, and Playtika is one of our key ones. Through our developed and operational projects, Vastint Romania has an important contribution to the change of the local real estate market's quality and efficiency standards. Thus, the recognition of these merits is also demonstrated by all the certifications obtained so far by our projects, and Playtika's choice is based also on these considerations, to develop its offices in an environment where it can create a healthy environment for its employees. Looking forward to continuing this strong relationship beyond the present cooperation with our mixed-use project Timpuri Noi Square." stated Antoniu Panait, Managing Partner Vastint Romania.