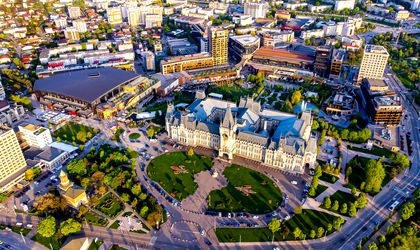 IULIUS Group continues to invest in developing the Palas mixed-use urban regeneration project and in consolidating the largest business hub outside the Capital, with more than 130,000 sqm, 70 multinational companies, and 14,000 employees. Next year, the company will start developing its eighth class-A office building as part of the Palas Iași complex and set to span 14 levels and an 18,000 sqm area. The building will be designed as an efficient green building with smart operation systems and entails an investment of approximately 40 million euros.
After recently opening Palas Campus Iași, the largest office building in Romania, in April 2023, IULIUS Company reached an investment level upwards of half a billion euros in Iași alone, via five real estate projects. The group wishes to continue investing in the urban regeneration of the city center area, by developing a new class-A office building as part of Palas Iași. This will be the eighth office building integrated into the project, with an 18,000 sqm leasable area and a vertical structure comprising a ground floor, mezzanine, and 10 floors.
Just like the entire IULIUS portfolio, the new project will be built in line with green principles, which ensure efficient operation and optimal comfort. The building will be fitted with two levels of underground parking, which will be connected to the existing underground parking of the complex, the largest in Romania, with more than 2,500 parking bays.
"We are confident in the development potential of Iași as a landmark city on the tech map of Romania, a status it acquired in recent years and to which we believe we have contributed by developing the large business hub downtown, via the premium office infrastructure in Palas Iași and Palas Campus. The hub brings together dozens of major tech and automotive companies, with whom we retained 14,000 talents in Iași. Our new development caters to the growth plans of companies showing interest in the developments of IULIUS, and we already have ongoing negotiations in various stages," said Ionuț Pavel, Office Buildings Manager Palas Iași & Palas Campus.
Palas Campus, the largest office building in Romania (54,000 sqm office premises and 6,000 sqmretail premises), was recently opened and entailed an investment upwards of 120 million euros. The project has regenerated an underdeveloped central area and transformed it into an innovative hub comprising 13 companies from the USA, Germany, France, Norway, Switzerland and Romania, with 5,000 employees. Palas Campus is the only project undergoing a dual green certification process (the US Green Building Council's LEED standard and the International Finance Corporation, IFC'sEDGE standard), and the one to contract the first green loan granted to a Romanian company by the IFC, part of the World Bank. The Campus is designed as an integrated mixed-use project that includes numerous retail spaces, bicycle lanes and parking, charging stations for electric vehicles, two levels of underground parking, and green spaces spanning more than 4,500 sqm.
The new office building will be a part of Palas Iași, an investment upwards of 320 million Euro to this date, which had a major impact on the economic, tourist and social development of the city and the entire region. Palas Iași comprises seven class-A office buildings, the largest shopping destination in the north-east of Romania, an event center, a park spanning on 50,000 sqm, a 4-star hotel, and the largest underground parking facility
The novel and complex blend of shopping and entertainment draws more than 20 million visitors to Palas every year, including visitors from the Republic of Moldova.