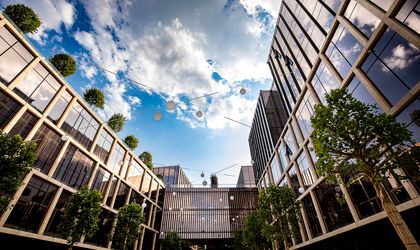 IULIUS Company is nearing completion of the construction works for Palas Campus, the largest office building in Romania in terms of total area (60,000 sqm). The project developed in Iași reached 100% occupancy before the final commissioning scheduled for Q1/2023. The tenants in the new office hub include major players in tech, IT, automotives, as well as the Microsoft Company.
The sustainably designed complex provides an extension of the Palas mixed-use project and will support the development of the central area of Iași to a level comparable to that of major cities around the world in terms of urban and business attractiveness.
With the grand opening date scheduled for the first quarter of 2023 and already 100% leased, Palas Campus is the newest office building in Iași and spans on 60,000 sqm. The tenant companies of the upcoming Palas Campus also include Microsoft, who is currently running its operations in the office premises located in United Business Center 3, part of the Palas Iași mixed-use complex.
Microsoft's offices will span on approximately 3,300 sqm, and the employees will also enjoy an 800 sqm private garden. Fitted on the 4th floor, the garden offers a panoramic view overlooking the Palace of Culture and the central area of the city.
"After a period when everybody worked remotely, more and more companies have implemented a hybrid work model. At Microsoft, we believe that the role of the office has changed in this context, as physical spaces now have to be adaptable and meet different needs – from comfortable, less formal areas where colleagues can meet and chat, to spaces that can accommodate work meetings or where employees can work individually. We want our employees to enjoy flexibility both in terms of working hours and by providing an environment that is conducive to professional and personal development. Therefore, it is important for us to create a work environment where people feel inspired, encouraged to innovate and to work together, while also pursuing their passions and achieving their individual goals. The facilities available at Palas Campus enable us to provide such an environment where employees can work and also relax, without impacting their productivity and ability to innovate. We hope that this change will add to the work of our entire team based in Iași," said Adina Vidroiu, HR Manager for Microsoft Romania, Greece, Cyprus and Malta.
The office space stock in downtown Iași to reach more than 130,000 sqm
Palas Campus entailed an investment upwards of 120 million Euro. The building has a horizontal layout and is comprised of six building blocks connected both on the ground floor level and on the first three floors, while two underground levels are allotted to a parking lot with a capacity of approximately 625 spaces. In addition to class A offices, Palas Campus will also include outdoor coworking spaces, a new food market concept with restaurants, coffee shops and terraces, a medical hub, a service area that will promote local producers, as well as showers, changing rooms, and bike parking areas.
Another advantage of the complex is its location near the Palas mixed-use development, which provides countless shopping, dining and leisure facilities, and where a strong business core was shaped over the last 10 years. IULIUS Group's office building network in Iași thus reaches more than 130,000 sqm, as Palas Campus completes the United Business Center community comprised of 7 premium office buildings and a total area of 75,600 sqm, accommodating 50 companies and 10,000 employees.
Palas Campus has been a sustainable project since the very design phase, being the only one to undergo a double green certification process: EDGE (Excellence in Design for Greater Efficiencies) by the International Finance Corporation (IFC), and LEED (Leadership in Energy and Environmental Design) of the US Green Building Council. The project has also contracted the first green loan granted to a Romanian company by IFC, part of the World Bank.