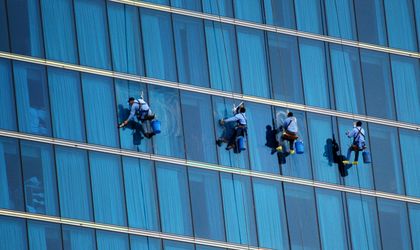 Having witnessed the costly mistakes made previously by reckless operators, office developers that manage to deliver well-located and high-quality projects in the coming two years will ride the next profitable investment wave, pundits say.
Andreea Ceasar
In 2008 office developers were confronted, for the first time following the boom, with growing vacancy rates, which rose from 4 or 5 percent at the end of that pivotal year to the painful value of 24 percent, according to a 2010 report from real estate consulting company CBRE Romania. This brought a change in the dynamic between tenants and developers, as the former were left with weaker businesses, a smaller number of employees and a poor cash-flow. Tenants that survived started to put pressure on rents and developers began to be more open-minded and look for solutions to compensate for the lack of a subway station or the high costs of administration.
"If we analyze the last 18 months, we can see that from the beginning of 2010 occupants began choosing to relocate rather than renegotiate expiring contracts. Due to substantially reduced rents, tenants opted to move to better areas with better accessibility. Last year relocations and expansions represented 80 percent of the total transacted surface area of 240,000 sqm, while renegotiations made up the rest," Horatiu Florescu, president and CEO of The Advisers/Knight Frank, told BR. Major clients relocated despite the significant costs this entailed. No rent reduction could dissuade them from leaving for superior office spaces, warning developers that their investments were perhaps not as sound as they had previously thought.
According to Florescu, the market – especially tenants – has self-educated, and players have understood that the rent is not the only criterion when it comes to selecting office space. Other factors at play today include: the layout of the floor and its flexibility for each occupier's needs, the costs of administration, natural light, parking spaces, building accessibility and proximity to the subway. The developer's experience and flexibility are also crucial. Developers that can fulfill these needs will enjoy success. Unfortunately, many developers that built in Pipera or somewhere similar paid enormous sums for the land and construction, without taking into consideration the importance of a subway station or administration expenses. And this could cost them.
But real estate consultants say that the power balance could swing back the other way, as the existing relationship between demand and the delivery of new space is tipping in favor of office developers. Last year more than 96,000 sqm (but less than 120,000 sqm) of rentable office space was delivered in Bucharest. That is the smallest amount in the last six years, and a drop of more than 65-70 percent in comparison with the year before. Plaza Development, Willbrook Real Estate and Chayton Capital delivered more than 90 percent of all new leasable office space in 2011 in Pipera, Baneasa and Piata Victoriei (using the total of 96,000 sqm).
The risk of investing hundreds of millions of euro is high even for solid investors. The answer to the market's harsh variables seems to be small office buildings with leasable surfaces of approximately 3,000 sqm, such as the Romana, Barbu Vacarescu, Frumoasa and Herastrau offices delivered last year in Bucharest. These types of spaces are easier to rent out as they are perfect for small firms that want to have their offices in the center of the city and also for undecided companies that are considering coming to Romania, but in an initially limited capacity. "Taking into consideration the low delivery rate of new office space in 2011 – 120,000 sqm – and the estimated office space to be delivered in 2012 – approximately 70,000 sqm – I believe tenants will develop an increased interest in five-year contracts," said Florescu. If the announced projects do not start in 2013 and 2014 there will be a lack of good projects, despite demand. "In the last 24 months the vacancy rates in central and semi-central Bucharest have clearly dropped. At the moment, I estimated that in Bucharest we have a vacancy rate of under 15 percent, differing from one area to another," added The Advisers/Knight Frank representative.
The Bucharest City Report put together by Jones Lang LaSalle found that prime headline rents stayed around EUR 19 per sqm per month throughout the whole year. In fact, all real-estate consultants were a little hasty in announcing the pressure on prices.
Crowded and cheaper
According to Global Occupancy Cost Offices 2012, a study by DTZ Echinox, Bucharest is the fourth cheapest city in Europe for occupancy costs per workstation, at EUR 2,932, with an average annual growth of three percent projected through to 2016. Budapest offers the best deal, at EUR 2,627.
A factor here is employers' inclination to pack their workers into offices, with a local employee being allotted just 8.9 sqm of net surface area, while in Ukraine and Poland an office worker gets 9.3 sqm, in Hungary 10.2 sqm, in the Czech Republic 12.5 sqm, while the typical German staff member enjoys double, at 17.2 sqm.  "There is a tendency towards using office space efficiently, which we have also noticed in Romania, especially in Bucharest. The rent per sqm will become less relevant and more attention will be given to details such as the occupancy rate and costs of administrating the building," said Madalina Cojocaru, head of the office department at DTZ Echinox.
Fast-moving niche
Meanwhile one niche market – property and facility management – has been growing, as investors have finally realized the importance of administration costs and the need to offer quality services, say providers. The decline of the real estate market and the low cash flow has generated greater interest among the main real estate consultants in this adjacent market. This is how the market has grown in value, but also in terms of competitiveness. Players on the market of outsourced facility management services say that the market grew in 2011 to EUR 120 million.
Jones Lang LaSalle announced at the end of 2010  its first client in the field – Polona 68 Business Center, developed by EEC Invest. The number of its clients increased in 2011 to include Swan Office & Technology Park and retail park Colosseum. Meanwhile, the local subsidiary of BNP Paribas Real Estate entered on the property management scene last year by taking over the administration of the America House office building and Promenada Mall in Targu Mures. It was a similar scene at Colliers International, which also launched operations in this field with its first client the Allianz-Tiriac building in Brasov. And 2012 started with the announcement that CBRE Romania was finally showing interest in this market.
As well as companies whose expertise lies in adjacent areas moving into the field, there are also specialized operators. One of the most active companies whose main activity is field property and facility management is Building Support Services (BSS), with a market share of 10 percent. "We administrate over 200 locations all over the country: office, logistic, commercial spaces and even residential projects, totaling 2.4 million sqm. In 2011 our business turnover increased by 80 percent to EUR 9.2 million," said Lucian Anghel, managing partner of the company. According to him, property and facility management is a relatively new activity, so there are important steps to be taken to deal with the lack of specialized personnel and establish standards and performance indicators for these types of services. "The facility management market is rapidly growing, as the economic crisis has taught us that these services help to considerably reduce administration costs. […] Last year the facility management market reached EUR 160-180 million. This year we expect that it will grow due to multinationals that have understood the advantages of outsourcing services, but also due to local companies that are keen to optimize costs," said Gabriel Davidescu, general director of UTI Facility Management, which has over ten buildings with a surface area of 140,000 sqm in its administration portfolio. The developer Global Vision started to offer such services in 2004 and now, according to managing director Sorin Preda, has 650,000 sqm of office space in administration, in Bucharest, Timisoara and elsewhere. In 2012 and 2013 he is interested in developing five other offices through the country. So the message is clear: there is potential, and it is growing.
Waiting for the right moment
Many contracts should end in one or two years, maximum, including some involving major multinational companies, according to developers such as AFI Europe Romania. "These tenants are our target market," CEO David Hay told Business Review in a previous interview. The company's 70,000-sqm project is positioned near the subway, close to its own shopping mall, and allows tenants to expand into the next four office buildings (which will be built in three years' time).
Last year IT&C firms were the main clients for rentable office space (at 21 percent), followed by companies providing medical services (17 percent), financial services (16 percent), and production and energy firms (11 percent), according to CBRE's report on the fourth quarter of 2011. All these fields are continuously growing, so in five years' time the occupiers will need to extend their offices, it argued.
For this year the most advanced project is the 11,000-sqm first building of AFI Business Park being developed adjacent to AFI Palace Cotroceni Mall. Other projects underway include the 37-floor Sky Tower from Raiffeisen ( 37,000 sqm in GLA), the first phase of Hermes Business Campus (18,000 sqm GLA), and Expozitiei Project, (15,000 sqm GLA). Additionally, smaller buildings such as Aviatorilor and Monolit offices are currently being developed in prime locations. After these end, some lean years will follow, unless works at some of the announced projects start at least by the end of this year.
Major investor Immofinanz has big plans for 2012, such as building some new office buildings in Iride Business Park and moving its current tenants to these new facilities, while renovating the rest.
"Romanian projects in the pipeline include a plot of land adjoining our Iride Business Park in Bucharest. At present we are evaluating the potential of this site for a new development project," communication manager Sandra Bauer exclusively told BR.
Interprime Properties, part of Inter Ikea, has also announced its intention to invest in an office tower near the Basarab area, and designers say that the blueprint is nearly ready. And other projects should join it. "This summer, construction works should start on Ana Tower, a 30,000-sqm development by GTC and Ana Group, which is a 27-storey office building. There are also great expectations from Straulesti Property Development, a 31-storey office building over 110 meters high," announced Dragos Marcu, CEO of Popp and Asociatii, a structural design company active in civil engineering, highlighting two projects that might change the aspect and quality of new office space if they learn from past errors.