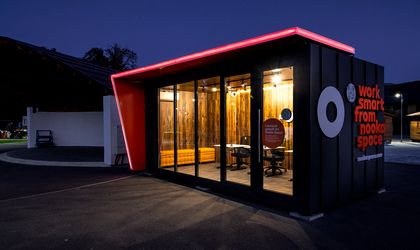 Nooka Space, the startup that designed the world's first network of proximity offices, ranked first at the regional Startup World Cup 2022, which took place in Cluj Napoca, Romania, from 18th to 20th of  May. The Startup World Cup competition, now at its first edition in Romania, took place during the Innowave Summit 2022 event, where 10 selected startups competed for the first place.
Winning the regional Startup World Cup competition qualifies Nooka Space for the grand finale in San Francisco on September 30, 2022 and gives it a chance to win the grand prize of USD 1 million. Startup World Cup is a global competition that brings together top startups, investors, and entrepreneurs from around the world. In the San Francisco finals, winning startups from regional competitions organized in Europe, North America, Asia, South America, Africa, and Australia will compete.
The innovation brought in the flex working segment, by designing and developing the world's first hi-tech proximity office network, convinced the jury to award Nooka Space, the startup which in less than a year and a half since its inception has managed to enter several European countries.
Sergiu Băbășan, Country Manager Nooka Space "Winning the Startup Wold Cup competition reaffirms the growth potential we have in the flex working segment at the international level and places us alongside the best start-ups in the world. Our development plans are very ambitious. We are entering new markets, we are launching new products, and by the end of this year we are aiming to attract a major investment. We are proud of this award, and we hope that our business model will conquer as many international markets as possible."
Just recently, Nooka Space was also selected by Vienna Business Agency to be part of Vienna Start-up Package, a global competition aimed to help startups to explore and expand the Austrian and other European markets. especially those from the DACH region.
Launched at the end of 2020, Nooka Space startup has the mission to create a global network of smart proximity offices and to grow a community of users, thus contributing to the sustainable development of the smart cities.
Nooka Space redefines the hybrid working style with an innovative business model that invites people to enjoy individual workspaces and more flexibility, productivity and urban mobility. Nooka Space proximity offices innovatively integrate the functionality and logistical resources needed for a state-of-the-art office. Through the Nooka Space mobile app, any Nooka office can be intelligently controlled by its users, from booking the desired time slot to customising the working environment.
Nooka offices are currently available in Romania, Ireland, Switzerland, Italy and France and by the end of the year will be launched in other European countries such as the Netherlands, Spain, Portugal, Austria and Belgium.