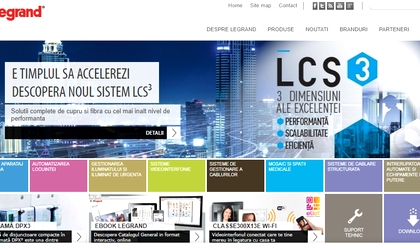 Legrand, specialised in electrical and digital infrastructure, presented new experiences in the "Office of the Future" at CES 2019, launching advanced sensors in partnership with Microsoft Office 365. Legrand also announced the launch of a new range of autonomous interconnected security lighting blocks.
"Commercial buildings, especially offices, are undergoing a digital revolution. Users expect smart experiences that are as easy to access and use as those they have in their home space. Office space thus comes with new interconnected solutions to simplify users' everyday life thanks to new services that also provide optimal room management for building managers," explains Jerome Boissou, Eliot's manager.
Advanced Sensors
For more than 50 years, Legrand, a leader in lighting solutions in the United States, is constantly adapting and changing its offer for better quality and greater control over its products. Until now, these sensors have been used to turn the lighting on and off. Today, the new range of advanced sensors also enables information about the effective use of meeting rooms and workspaces, allowing both employees and space administrators (office managers, property managers) to enhance their comfort and to generate savings.
The Advanced Sensor consists of a series of sensors that measure temperature, air quality, number of people, in addition to the basic light control functions integrated into an open and interoperable architecture. It also accompanies the digital transformation of office buildings to user-oriented approaches (user-centered buildings) and functional approaches (buildings serving as service platforms).
Finally, it generates data for use by third parties, thus favoring the emergence of innovative services for energy efficiency, employee comfort and space optimization.
"The IoT applied to commercial buildings offers a new dimension to the workspace." The data from the various connected systems present in the infrastructure become a valuable component for the manager, thus transforming buildings into user-centric service platforms,  emphasizes Pierre-Yves Hasbrouck, Innovation & New Uses Legrand.
With the Advanced Sensor solution, Legrand has joined forces with Microsoft Office 365 and Jooxter
According to the IFOP / Legrand study presented at CES, 78 percent of French users, 72 percent of Americans and 87 percent of Chinese respondents are interested in finding real-time if a meeting room is occupied or not and to hold a meeting smartphone or computer.
To meet the expectations for greater comfort and workplace optimization for employees and managers, Legrand has joined forces with the most important players in the industry.
Microsoft: In addition to its partnership with Cloud Azure, Legrand has joined Microsoft Office 365 to bring the user experience with the new range of advanced sensors. Thanks to this partnership, real-time visibility allows employees to use a reserved meeting room but remains unoccupied.
If the Legrand sensor does not detect presence in a reserved meeting room after a certain period of time, artificial intelligence facilitates room availability in Office 365. This partnership allows building managers to measure room occupancy and plan maintenance, make decisions in terms of the best planning of the rooms and their occupancy in terms of capacity.
"This partnership with Legrand aims at optimizing the workspace to simplify the day-to-day life of employees." Office 365 and Legrand, Advanced Sensor solutions work together to improve employees' comfort and agility by optimizing office hours. For the company, it means greater employee satisfaction every day, as well as significant savings," explains Carole Benichou, Division Lead, Microsoft 365, France.
Jooxter: Legrand has made a partnership with this French start-up, which develops an automatic solution for real-time workspace management. Thanks to this partnership, Legrand integrates this tool into the building management system to accurately measure the amount of space occupied and to understand how it is used.
"The number of occupants measured by the Advanced Sensor solution is an essential piece of information for the building manager, which can adjust the size and layout of the room depending on how it is used. Thus, Jooxter captures the data sent by Legrand sensors, making workplaces more flexible and reducing unoccupied space, "says Emmanuel Ballandras, Vice President of Partnerships and External Relations, Legrand.
Autonomous security luminaires
Legrand, the European safety lighting leader, presents to the ESC a new range of autonomous blocks for interconnected safety lighting.
With state-of-the-art safety lighting, a building manager can guarantee occupants absolute safety and a functional installation in the event of an unexpected event. A manager can easily launch a remote diagnosis for all managed areas and generate a report to prepare for maintenance. Building administrators thus optimize on-site intervention and time, while ensuring adequate security for all occupants.
With this new solution, Legrand proposes a shift from corrective maintenance to foreseeable maintenance.
In Australia, Legrand launched in June 2018 the connected Galaxy Safety Lighting solution to simplify maintenance and ensure compliance. For example, Legrand installed this solution at the Ibis Hotel in Perth and the Sydney Crown Tower in Barangaroo.
20 years in Romania
Legrand is the global specialist in electrical and digital infrastructures. Its complete solutions for residential, commercial, office, education, data center, hospitals and other health centers, hotels and industrial buildings make it a benchmark in the field for users around the world.
In Romania, the Legrand Group has been present for over 20 years and sells through its distributors the most varied and innovative products in the electrical field under the umbrella of 15 top brands, of which the most representative are: Legrand, BTicino, Zucchini, Cablofil.
Building on a program involving all key employees and partners, Legrand's sustainable growth strategy includes constantly launching high-tech products and services tailored to market needs and requirements. Legrand reported sales of more than 5.5 billion euros in 2017.