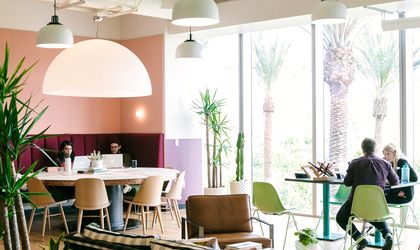 Speaking at the Investment Briefing event organized by the Bucharest Real Estate Club, Marian Popa, the general manager of Deutsche Bank Global Technology Romania, said that office building developers are unfortunately still focusing on brick and mortar instead of services to offer their potential tenants, and that the future of office buildings might be bleak in 10 to 15 years.
Popa pointed out to developers that the emergence of technologies will change the future much more dramatically than the world thinks, with an impact on the real estate market as well.
"There is a new generation, and it's different of the previous ones. DB Global Technology currently has 1,000 employees. The company has leased five floors, with an area of ​​13,000 sqm, at the BOB Tower in Pipera, owned by Globalworth. Technology has reached a level where you can work from anywhere, and this is not a problem. Companies will change their way of thinking about office work. For example, we've introduced working from home for one day a week and we've been doing it for two years. In a month, the space requirement has fallen by 15 percent," said Popa.
According to the GM of DB Technologies, 70 percent of the budget of service companies is allocated to staff, 20 percent to facilities, and 10 percent to all other expenses, such as coffee or entertainment. And companies have to rent larger office spaces for longer periods of time without knowing exactly what will be needed in the future.
Co-working spaces might be an option
Co-working operators generated 20 percent of net the market demand in the first nine months of this year, according to Colliers International.
But there is a problem.
"Mindspace is good news for companies, but I do not think it's good news for developers, and that's because it gives me the chance to no longer lease from developers, and gives me a chance to decrease my costs and be more efficient. Instead of paying for space for ten people, of whom only seven come to the office, I'd rather pay for only seven people. If the market doesn't turn to services, by 2030, office buildings will be partially empty," adds Marian Popa.
Furthermore, Popa explained, some parts of DB Technologies are traditional, some parts are not – those departments have eliminated desks, which allowed the company to install 25 percent more people on that floor.
"Without offices we've created the illusion of a larger space, because they thought they had more space," concludes Marian Popa.
In the first three quarters of the year, according to Colliers International, there was an 18 percent increase of leasing activity on the office market, to around 73,000 sqm.