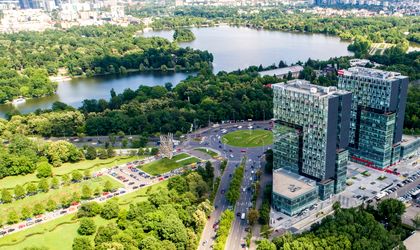 Yet another reputable company trusted GTC Romania with headquarters choice. Theta, a market leader in custom furniture making and interior design consultancy, chose City Gate as its new headquarters in Romania. The company will occupy over 1,000 sq m in the South Tower of the Bucharest located landmark office complex. The tenant will move its head office and showroom into City Gate by March 2022.
One and a half year into Covid-19 pandemics, many companies increasingly consider moving back into offices, as their employees are more willing to work from the office than from home. In the post-pandemic working reality, employees are seeking a quiet space and high office standards, which ensure safety, relaxation, and the possibility to work in the open air. These factors became the key motivation for Theta, a recognized interior design & furniture consulting company, to choose City Gate as its new headquarters and showroom in Romania. The company will occupy over 1,000 sq m of modern office space in the South Tower of City Gate for a 5-year period.
"With yet another Romanian market leader choosing City Gate as its headquarters, we can observe a streak of successful lease agreements for GTC Romania. This is a sign of our recognized reputation in the Bucharest office market. We are delighted to welcome such a renowned company as Theta on board and grateful for putting trust in us. We were also pleasantly surprised by the fast track of the negotiation and the decisions showed by our new tenant in securing a prime location for its business and employees. Also, I would like to thank the CEE Estate asset management team as well as Knight Frank Romania for their great support with this transaction. They say, "there is no place like home", and I hope Theta will feel so at City Gate, making our cooperation long-term and mutually beneficial" – said Ziv Gigi, Managing Director for GTC's operations in Romania.
Theta belongs to Intermedio General Group, operating in the household and institutional furniture manufacturing industry. Since 2008, Theta has been one of the market leaders in Eastern Europe with more than 11 years of experience in custom-made furniture making, high-end space renovations, offering superior quality interior design & fit-out solutions for over 1500 clients in the custom-made and standard furniture sector. Theta has consulted and delivered cutting-edge interior spaces of a total of 300 000 sq m for 882 offices, 112 HoReCa and 504 residential and commercial spaces. The well-communicated location, modern interior design, and the variety of facilities for relaxation and entertainment became the decisive factors for Theta to choose City Gate as its Bucharest office.
"We are very happy to announce moving our headquarters and main showroom to City Gate South Tower. We believe the synergy between the landmark building City Gate and quality of products and services we provide as Theta will lead to a very successful experience for our clients and employees" – says Florin Gheorghe, CEO of Theta Romania.
City Gate is a high-end office building located in the North of Bucharest, with easy access to business and recreational facilities grouped around the Herăstrău Park and office hubs like Piața Victoriei. The facility offers 48,000 sq m of modern office space, tailored to suit various tenants' needs. Recently the South Tower has been enhanced with a brand-new lobby, offering a high-end interior design experience for tenants and City Gate guests. Served directly by a bus and a tram line, the property offers approx. 1,000 refurbished underground parking spaces. The nearby modernized Plaza premise provides a moment of tranquility for tenants and visitors, who can relax in one of the lobbies, arranged in a matching urban design. The upper floors of City Gate offer an exceptional view of Herastrau Park, where one can enjoy lunch or have a coffee break in the sky-bar and restaurant.