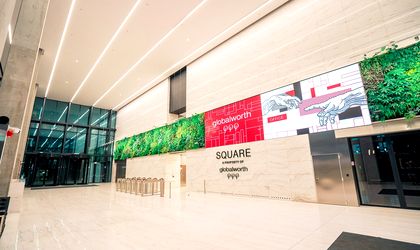 Globalworth, the leading office investor in Central and Eastern Europe (CEE) and the leader of the Romanian office market, announces the signing of a new lease contract for Globalworth Square.
GambIT Digital, a fintech consulting services company, became a tenant of Globalworth Square, the most technologically advanced office building in the Globalworth portfolio. Starting with September 2022, the lease is signed for 5 years.
With this project, located in the middle of the Globalworth District, the largest business community in Bucharest, the landlord is creating a new standard when it comes to responsiveness, well-being, sustainability, and reduced costs of occupancy. Globalworth Square obtained BREEAM Outstanding accreditation, with 99% scoring, placing the building on the 3rd place worldwide. Since technology plays a central role in the office of the future, a trend accelerated by the pandemic, Globalworth is bringing the future closer with a series of unique innovations. An important part of the energy consumption will be provided by the photovoltaic roof and to increase safety, direct contact with the surfaces will be limited by implementing touchless solutions with IR-sensors in all the sanity facilities, while the access to the building and office spaces will be available through Bluetooth and NFC technologies.
These features convinced GambIT Digital to carry out their activity on the floors of the technologically advanced office building. Here, the company will continue to grow and to further provide tailored digital gambit opportunities by leveraging breakthrough technologies, AI innovations and domain knowledge.
Accommodating a small team of innovative thinkers and creative problem-solvers represents a way of confirming our promise to be a PLACE TO GROW. Therefore, we are sure that Globalworth Square will be a PLACE TO GROW to strengthen GambIT Digital position in the market, stated Ema Iftimie, Head of Leasing & Customer Care, Globalworth Romania.
—
Growth seems to be the number one challenge for technology companies, especially in the fintech market space. Our main objective for 2022 is to maintain our track record of +100% YoY growth in revenue and headcount, for the fourth year in a row. Moving GambIT Digital headquarters into Globalworth Square is a key strategic decision for 2022 and beyond – not only do we have the flexibility we need, but we also feel that the Globalworth team is actively involved in our goals. We are grateful to be welcoming new colleagues and new partners into a modern, technologically advanced facility, that enables us to create an environment for nurturing successful relationships and an amazing company culture. We could say that for us, Globalworth square is a place to stay, but better yet, it is a PLACE TO GROW, added Nicolae Roșu, Chief Executive Officer, GambIT Digital.
Globalworth Square has an innovative health and safety feature, increasing the air filtration and UVC light disinfection for a hygienic office environment: a system that disinfects the air introduced in the office area as well as in the common spaces with the help of UV-C lamps installed on the inlet connections of the air-treatment stations. This system ensures efficient and effective reduction of microorganisms by up to 99%, even in very confined spaces, and it works against viruses such as Covid-19 and other pathogens. Another innovation is the building's cooling system, consisting of a heat pump, R1234ze ecological freon chillers and a boot storage, designed to generate low energy consumption. The implementation of the ice storage system is unique for a class A office building in Romania.
Located in the northern part of Bucharest, Globalworth Square is a class A office building totalling 29,000 sqm leasable area distributed over 3 underground levels, Ground Floor and 15 upper floors plus 1 tech level, with a generous typical floorplan of 2,130 sq.m.