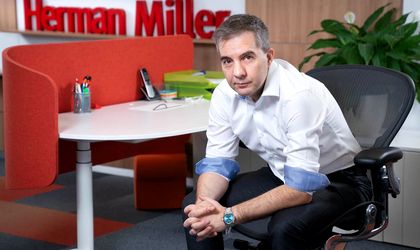 Workspace Studio, a local company specialized in fitout solutions and office furniture oriented towards human-centric ergonomic design and the only accredited partner of Herman Miller in Romania, has developed an eBook with recommendations for the safe return of employees to the office.
Aiming at the well-being and health safety of employees while maintaining their productivity and performance, the eBook is a helpful resource for customers, partners and everyone involved in the back to office strategy development.
The traditional office space continue to play a vital role, especially for collaborative creation, innovation and socialization. More welcoming and airy, the office of the future will provide more privacy and wellbeing to those employees who actually return to the office. The office will become an exclusive space, that area where relationships are created and "things happen", not only where information is processed and transmitted – says Horațiu Didea, Managing Partner Workspace Studio.
A recent study conducted by Gensler Research Institute shows that only 1 in 8 employees would prefer to continue working from home exclusively. 74 percent say they want to return to the office for socializing, while 55 percent admit that teamwork and collaboration are difficult when working from home.
Returning to office: a progressive strategy
Planning and analysis
Planning for employees to return to the office should begin with an analysis of how they work and their interactions. In order to ensure correct prioritization and assessment based on productivity and wellbeing, it is recommended that organizations conduct anonymous employee surveys. Analyzing the feedback and the specifics of work and interaction, managers should establish the categories of employees and the order in which to return to the office.
Sanitary measures
Organizations must adopt health measures according to the recommendations of the authorities, but also additional measures to ensure the psychological comfort of employees. A Qualtrics survey conducted this year in May found that 62% of employees want strict return-to-office policies, while 74 percent expect office spaces to be disinfected regularly and thoroughly. Separation solutions – such as screens, acoustic or plexiglass panels, interior signage and ventilation solutions are already available to be integrated into workspaces design.
We are constantly expanding our portfolio of wellness solutions so that it is well adapted to current needs. Air purifiers, for example, are products that we already had in our portfolio, and the sales recorded these months are over 200 percent higher than in the previous period. The sales trend on these types of products will be maintained with the massive return to the office – says Horațiu Didea.
Rethinking the workspace
Decreasing human density in the office will be achieved by changing the frequency and work schedule, work from home policies, but also by imminent staff reductions. Thus, each space can be redesigned to ensure de-densification and social distancing, without major investments in new equipment.
The offices will have a more welcoming look, more airy, offering more privacy and comfort to those employees who will come to the office. The eBook created by Workspace Studio contains over 20 practical examples of reconfiguring space in this context.
It is much easier for companies that were already oriented towards wellbeing and employee comfort to adapt to a return to the office, with smaller investments. For those that were not employee-centered it will be more difficult, but there are solutions available for various levels of investment – adds Horațiu Didea. 
Communication and control of interactions
Design changes and sanitary measures adopted by companies may provide limited protection. Preventive behavior of employees is essential to complement the measures in order to ensure a safe environment. Thus, communicating measures, expectations and adapting interactions are steps that team leaders and Human Resources departments must address responsibly.
Integrating work from home as a permanent policy
A flexible work-from-home policy ensures both the psychological comfort of employees and the context for reducing office density. To ensure that productivity is maintained while working remotely, companies need to support the design of ergonomic workstations for employees working at home.
Companies constantly concerned about the well-being of their employees have already provided financial incentives or partially funded home office furniture and equipment. The increase in sales of Herman Miller ergonomic chairs, in the end customer segment for the home office, exceeded 200 percent these months. The general interest for ergonomic products – electrical desks, chairs, panels – on this market segment has tripled – says Horațiu Didea.
Workspace Studio is a local company specialized in turn key office solutions and office furniture oriented towards human-centric ergonomic design and the only accredited partner of Herman Miller in Romania. In 2019, Workspace Studio's turnover exceeded 10.7 million euros, double compared to 2018.