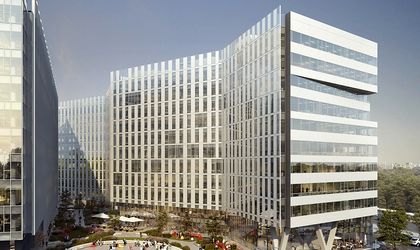 One of the most anticipated new entries on the Bucharest office market is Campus 6.1, the first building in the Campus 6 project, which will have a virtual reception and an app for employees.
Through the application, employees will be able to control their acces to the workspace, but will also be included in a community with various facilities (car sharing, food services, information about events organized in the building, etc.).
Campus 6 is located next to the Polytechnic University of Bucharest and has future tenants such as NXP, London Stock Exchange Group, Superhippo, Regus. The first building of Campus 6 was acquired by CA Immo in May for EUR 53 million.
The office building has a gross leasable area of 22,000 square meters and its completion is scheduled for the third quarter of 2018.
Another project in the center-west area that will deliver new space soon is AFI Tech Park, with a total of 22,000 sqm ready in 2018. Among its tenants are World Class, Knauf, Hilti and Game World Group.
Also by the end of this year, the Day Tower and Unirii View office buildings, both located in the Unirii area, will be delivered to the attention of large companies due to easy access and a large number of urban amenities. The center-northern area will deliver a single building this year – Globalworth Campus B.