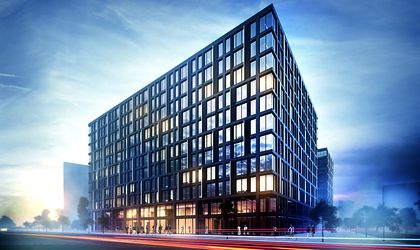 Forte Partners has signed the full sale of Bucharest-based The Bridge office project to the Dedeman group, in the most important real estate transaction of 2018 and the most important one between two Romanian entrepreneurs.
The Bridge project, comprising three phases and an area of ​​approximately 80,000 sqm, will be taken over by Dedeman, the biggest Romanian DIY player. The value of the transaction is estimated at EUR 200 million, according to market sources.
The first phase of the Bridge was rented out to tenants like BCR and IBM, while the second phase is in construction and was pre-leased to UPC, Schlumberger and Medicover. The third phase is in the preparatory stage.
"This transaction marks a milestone for the local real estate market, but also for the Romanian economy. We have shown that a Romanian developer can compete with the big international groups on a very dynamic market and can close large transactions. We thank Dedeman for choosing to take the first step on this market segment with The Bridge project," said Geo Margescu, CEO and co-founder of Forte Partners.
The Dedeman Group, with a turnover of over EUR 1.37 billion in 2017, is owned by brothers Dragos and Adrian Paval, the strongest Romanian entrepreneurs. Dedeman is the largest Romanian employer, with over 10,000 employees, the largest retail network, comprising 48 DIY stores, two logistics centers and a self-owned fleet.
Recently, the Dedeman Group took over 50 percent of the Cemacon brick maker in Cluj-Napoca. The transaction included Cemacon SA and Cemacon Real Estate. Last year the Romanian company failed to buy office project AFI Park near AFI Cotroceni mall.
Forte Partners, founded in 2014, is one of the most important real estate developers on the market. The company has so far developed a portfolio of projects worth more than EUR 300 million in both the office and residential sectors.
Forte Partners has developed the Stefan cel Mare Building, Nova Building and The Bridge 1 office buildings as well as the London 27 residential project, and has been running The Bridge 2, Calderon 80 and Aviation Park projects.
Law firm Popovici Nitu Stoica & Asociatii assisted Dedeman on the acquisition and PeliFilip assisted Forte Partners.