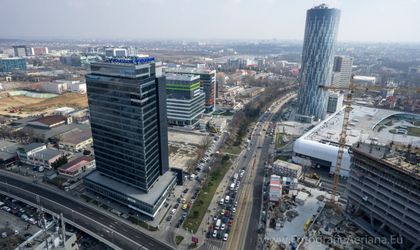 The Bucharest office market started 2019 with decent numbers: a gross take-up of 105,000 sqm, of which the net take-up was 29,000 sqm, and 93,000 sqm of deliveries. Data from the real estate consultancy company Colliers International Romania show that the demand came mostly from IT&C companies, despite the tight labour market.
"At first glance, the start of 2019 has been great for the Bucharest office market, with the total take-up at 105,000 sqm, up some 54 percent year-on-year. Enthusiasm needs to be slightly toned down: although there is still very healthy demand for new or qualitative projects, we have to peel away renewals and relocations from competitive stock to reach net take-up. These relocations tend to create vacancy and they stood at a sharp 54,000 sqm in Q1 2019 versus 102,000 sqm for all of 2018. As a result, new demand decreased by over 20 percent, to about 29,000 sqm, which is still a decent level, while flexible workspace operators accounted for over 20 percent of the figure," said Sebastian Dragomir, Director Office Advisory at Colliers International.
Leasing activity by sector shows that IT&C was by far the top star, accounting for nearly two thirds of the total take-up, followed at a great distance by financial & banking (16 percent) and professional services (a little over 10 percent). In terms of reported demand, the most active areas were West and Centre West.
The start of 2019 has seen the delivery of several large projects in Bucharest: S Immo's The Mark – near Piata Victoriei; the second phase of The Bridge in Center West, developed by Forte Partners, but owned by Dedeman; Renault's new HQ, developed by Globalworth.
Overall, 93,000 sqm have been added to Bucharest's modern office stock, taking the total to 2.5 million sqm. By year-end, additional offices with a total leasable area of around 250,000 sqm could become available.
The labour market continued to tighten over the last year, though Colliers' interactions with companies suggest that they still manage to find employees eventually; this position is relatively better than CEE peers.
Still, job creation is cooling down, as underscored by the lack of new notable entrants on Bucharest's office space – aside from a new co-working operator, no new entries were recorded on the Bucharest office market – and the ongoing trend of a lower net take-up seen in recent year.
Eventually, the tight labour market will come at odds with the new-found momentum in terms of deliveries. However, even as construction for over 0.4 million sqm of new modern office spaces has started (and more projects are expected to start soon), Bucharest is one of the most undersupplied markets in Europe.
Overall, Bucharest office market conditions are largely neutral, with rents unchanged in the recent period. Still, amid the heavy delivery calendar, it might shift towards a tenant market sooner rather than later.
Well-positioned and qualitative old buildings, as well as new projects will continue to fare better in an ever-challenging backdrop, though the aggregate effective rent in Bucharest is expected to come under downward pressure, possibly as soon as the second semester of 2019.