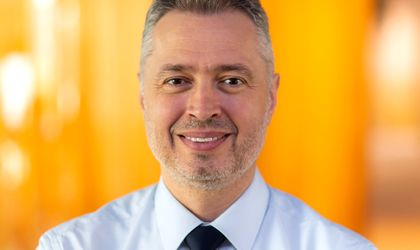 Annualized new demand for modern office space in Bucharest in mid-2022 reached values comparable to the average of the previous decade, according to Colliers consultants, who observe a clear differentiation between how new and existing buildings that have not benefited from investment in technical improvements are perceived.
Specifically, the annualized rate of new demand has almost doubled from its pandemic low, and tenants are increasingly opting for new buildings with good technical specifications and in good locations. For some buildings or even submarkets, Colliers consultants point out that Bucharest is starting to become a market for office building owners.
"The annualized rate of new demand is comparable to the value recorded in 2019, even though it is about a third below the record value recorded in 2017. Nevertheless, an average of more than 200,000 square meters of modern office space was built per year during those years, compared to an average of around 120,000 square meters per year in the 2022-2024 period, according to the optimistic scenario. Currently, we are not yet at 2017-2019 levels of demand, but we are closer to those values than we are to pandemic lows. This return came with a relatively small volume of new deliveries, which translates into less options for tenants when they decide to rent office space", explains Victor Coșconel, Head of Leasing | Office & Industrial Agencies la Colliers.
After integrating remote work into the usual working model of most companies, the office market will change drastically, Colliers consultants believe. However, the transition to a hybrid way of working will not necessarily mean a reduction in occupied areas, given that companies will rather aim to maximize the quality of time spent by employees in the office. Basically, the need for large office areas is replaced more and more by dedicated areas which are emerging for specific activities such as collaboration, conferencing, one-to-one discussions, more relaxed meeting areas, relaxation areas and even entertainment. As a result, the current trend is to transform and remodel office spaces to facilitate this new way of working.
In the medium term, the big challenge might not necessarily be changing the way we work as the less favorable economic news, says Victor Coșconel. Major economic and geopolitical uncertainties, coupled with the risks of some developed economies slipping into recession, as well as the tightening of monetary policy in the US and the euro area, are elements that can strongly affect activity in developing countries, and Romania is particularly vulnerable to negative external events.
"Under these circumstances, we treat the evolution of the office sector with cautious optimism in the coming quarters, given that there are significant risks that the economy may not do so well, and we may find ourselves in a situation diametrically opposed to the one we have seen in the last year in the Romanian office market", says the Colliers expert.
In the longer term, the positive factors that have pushed Bucharest to become one of Europe's most exciting and dynamic service centers remain – relatively low salaries compared to Western Europe coupled with good technical and language skills. The market is therefore expected to grow not only on a quantitative but also on a qualitative basis, with many more global blue-chip companies (mostly in the technology area, but not only) entering the market.
Bucharest's low modern office stock per capita is an isolating factor in the long term, say Colliers consultants, and modern office stock is expected to start growing again in a few years. In the first quarter of 2022, just over 70,000 square meters of new modern office space was delivered in Bucharest, increasing the total stock to almost 3.3 million square meters and could reach 4 million square meters by the end of the decade. Regional cities will remain less developed than Bucharest but will continue to grow faster than the Capital and prosper.
"We note that the pandemic-era scenarios suggesting that a large number of tenants would give back significant office space in the context of wanting to emphasize remote working have not materialized. On the contrary, companies that have reduced their footprint in the context of adopting a hybrid way of working are rather the exceptions. Still, the growth scenarios for the office market face quite big challenges in the short and medium term, given the international economic climate. A recession in developed countries could easily contaminate Romania's economy, which would also considerably reduce the demand for office space," Victor Coșconel points out.
Colliers consultants estimates that around 130,000 square meters of new modern offices could be delivered this year, with a total of roughly 360,000 square meters for the 2022-2024 period. This seems quite low in a market where the reported value of new demand averaged around 140,000 square meters per year in the years before the pandemic (likely that direct transactions between landlords and tenants, which are not reported, add at least 30% to new demand, according to Colliers estimates).
"In the post-pandemic world, tenants are all the more concerned that the time spent by employees in the office should be of a high quality and are therefore also looking for a suitable office. With an increased demand for these types of premises and a relatively low volume of deliveries, this creates the conditions for the development of an owners' market for certain desirable buildings or sub-areas. In other words, even with an aggregate vacancy rate at the Bucharest level, which is in line with a tenant market, this figure does not explain the increasing gap between new and modern buildings and older and obsolete ones. As a result, there are also the premises for a more substantial increase in prime rents in the coming quarters", concludes Victor Coșconel, Head of Leasing | Office & Industrial Agencies at Colliers.
Clear signs of recovery in the office market can also be seen in Colliers' activity, which was the most active Office leasing agency in Bucharest in 2021, by representing tenants in leases of over 43,000 square meters, a volume that places the real estate consulting company at the top nationally. Total demand for modern office space increased by 23% in 2021 to 263,000 square meters compared to the same period last year, Colliers data shows. At the same time, new demand reached 104,000 square meters, up 47% from the same period in 2020.