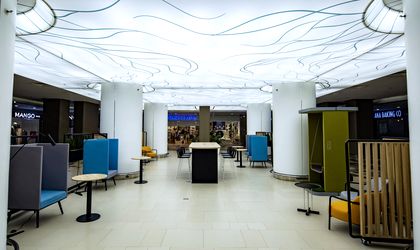 Chairry Design & Furniture, a company specializing in the fit-out segment – complete furniture and interior design solutions, doubled its business volume in the office furniture solutions segment in 2022 compared to the previous year.
Thus, in the year to Q1 2023, the company supplied more than 3,000 pieces of furniture for approximately 3,500 sqm of office space, representing a total sales volume of EUR 0.8 million.
Large employers have turned home working time into opportunities to invest in design solutions for interior spaces to bring employees back to the office and prepare for the new hybrid work format, in most cases. According to Chairry data, the most active areas included the FMCG sector, co-working spaces, professional services, financial services, online companies and retail agencies for the gambling and betting segment, as well as the receptions of newly completed office buildings.
Also, with large companies no longer making full use of office space leased on fixed terms of 5 or 10 years, they have started to sublease it to smaller companies, which is creating a new type of demand in the office fit-out market. Office building developers have also started in the last two years to offer rental solutions for office space up to 400-500 sqm, whereas before the pandemic the minimum leasable areas were much larger.
"The office space design and interiors segment has become very active in the past year and the trend continues from early 2023, given the post-pandemic business environment buzz. Many large employers have been looking for new solutions to bring people into the office, and other companies have seen relocations or extensions of leased space. While in 2021, the office furniture component accounted for 20% of Chairry's business, today the percentage has risen to 50%, and the trend is upwards, going forward. Currently, since the beginning of the year, we have office furniture projects of over 1,500 sqm in the pipeline," says Raluca Dorobanțu, CEO Chairry Design & Furniture.
According to Colliers Romania data, the total demand for office interiors in Bucharest grew by about 6% last year compared to 2021, with new demand rising by about 17% in 2022 to 122,000 square meters.*