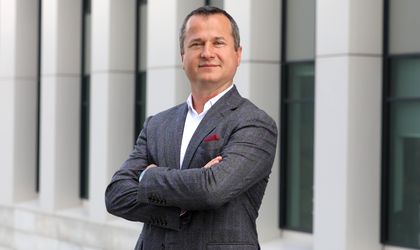 With the pandemic having changed the way we live and work, real estate developers and tenants need to find ways to provide a safe working environment for employees. BR talked with Antoniu Panait, Managing Director at VASTINT Romania, to see how, in his opinion, developers and tenants can join forces to empower the Romanian workforce.
By Anda Sebesi
How has the pandemic changed the way office buildings are perceived by tenants and what have developers done – in terms of investments – to support their tenants' safe return to the office?
Since the start of the pandemic, companies have had to react quickly and cautiously while remaining flexible in order to adapt to the constantly-changing environment. The first step was to shift either completely to working from home or to a hybrid scenario. No person or company was spared of the uncertainty of the near future and most employers had the same goal: keep employees safe and companies active.
While employees may have mixed feelings about returning to the office full time, companies still need time to assess the impact of remote working and decide what the future should look like. After a year, we are able to understand more and weigh pros and cons while taking a thorough look at the past year in order to plan out next steps. It is important to see the downsides of the working from home period, with research having shown that 69 percent of employees have experienced burnout, while a third stated they did not feel connected to their colleagues.
In our case, the property management teams of both Timpuri Noi Square and Business Garden Bucharest have invested a great deal of time and effort to ensure that the buildings are ready to safely welcome our tenants' employees back to the office at any time, while maintaining operational budgets under control. Timpuri Noi Square was the first office project to obtain Bureau Veritas' Safe Guard certification, in June 2020, followed closely by Business Garden Bucharest.
What are the benefits that green and sustainable buildings can offer to employees in difficult times like these?
Green and sustainable buildings mean more than technical specifications, but those have a direct impact on the comfort of their users. Healthy air conditioning and a superior ventilation system – providing 100 percent fresh air – combined with Vastint's standard 3-metre floor heights and openable windows are key factors in providing proper ventilation of offices, which is very important in today's context. Each project has its own advantages: for example, Business Garden Bucharest has 30 percent of its space dedicated to the garden, where the employees can work, play chess or ping-pong, drink their morning coffee or just take a break outdoors.
On the other hand, Timpuri Noi Square has a large recreational plaza area, together with a multimodal football court where employees can have fun and enjoy team sports in order to reconnect with each other when they return to the office.
Could the benefits mentioned above be part of your tenants' employer branding strategies?
Project details and amenities can be leveraged by employers in corporate branding strategies and have a direct impact on HR recruitment and retention processes. Apart from that, there are also several other aspects to mention, including the office layout and desk occupancy ratio. Location continues to be one of the most important decision drivers as recent research has re-confirmed that for over 64 percent of employees, office accessibility and the safety measures taken inside the office building are the two most important factors in deciding whether to take or keep a job.
To what extent do you think this adaptation of office buildings will contribute to a better employee performance?
Developers and tenants should make a joint effort, as the comfort provided by the building quality and proper safety measures – both in common areas as well as in leased space – are directly related to higher productivity. A proper working environment means happy employees, which improves focus and leads to increased efficiency.