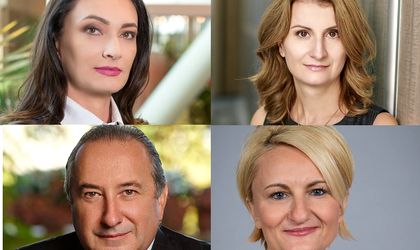 There is around 2.7 million sqm of modern office space in Bucharest these days and the figure might reach the 3 million sqm milestone by the end of the year. The market recorded one important transaction in the first half of the year, and another in August, together worth close to EUR 400 million, and new leasing contracts are announced every week. That is what we see. Four of the most high-ranking executives in the industry share the view from the inside.
By Razvan Zamfir
Liviu Tudor, president of Genesis Development; Ema Iftimie, head of leasing at Globalworth Real Estate; Fulga Dinu, country manager at Immofinanz; and Emma Toma, leasing manager of AFI Europe told BR how the office market is moving and what we can expect from the sector and from their companies through to the end of the year.
The state of the office market
"This year, the office space supply will grow by 55 percent over last year, and 2019 will see a further 69 percent increase in the stock of space delivered. Most office buildings will be delivered in the center-west area, where this year's largest volume of pre-rentals came. We will be making high-volume deliveries, as we generally speak of multi-phase projects located on the Ring 1 subway ring," says Mirela Raicu, corporate officer division of ESOP Consulting l CORFAC International.
And the market is preparing itself for new arrivals. First is Campus 6.1, the first building in Skanska's Campus 6 project, right next to the Polytechnic University of Bucharest and which has future tenants such as NXP, the London Stock Exchange Group, Superhippo and Regus. Another project in the center-west area that will deliver new space soon is AFI Tech Park, with a total of 22,000 sqm ready in 2018. Among the tenants are World Class, Knauf, Hilti and Game World Group.
Also by the end of this year, the Day Tower and Unirii View office buildings, both located in the Unirii area, will seek the attention of large companies due to their easy access and large number of urban amenities. In the center-north area, a single building is due this year, Globalworth Campus – Building B.
The newest office area, in the Expozitiei Boulevard area, will have the first offices available from 2019, when the first two class A office buildings are expected to be delivered to the Expo Business Park project developed by Portland Trust, the company that sold Oregon Park complex to Lion's Head Investment in S1 for around EUR 180 million.
A competitor in the Expozitiei area is GTC's City Rose Park, which will deliver the first office space since 2010. In total, 94,000 sqm of office space will be built in the area. Together with the sale of Oregon Park, in August, Forte Partners and Dedeman signed the most expensive transaction of the last ten years (in 2008 Deutsche Bank fund RREEF acquired Upground office and residential project from Ioannis Papalekas for EUR 340 million, but the crisis blocked the transaction). An investment fund of the DIY retailer took over The Bridge offices for EUR 200 million.
Executive views on the office market
BR asked the four executives the same questions, regarding the office stock their company owns, the evolution of the stock in the next 18 to 24 months, the situation and evolution of the Romanian and Bucharest office market and, finally, the main visible differences between the Romanian market and neighboring countries.
Emma Toma, AFI Europe
AFI Europe Romania has a track record of developing office projects of approximately 250,000 sqm GLA.
After the success of AFI Park – 100 percent leased, a 70,000 sqm GLA hub for IT&C multinational companies, located near AFI Cotroceni, a project voted several times among the overall best designed office buildings in Romania – AFI Europe Romania is currently developing AFI Tech Park, a 56,000 sqm A class business park in the center of Bucharest.
In the next 18-24 months, AFI Europe Romania is planning to start the second phase of AFI Tech Park, meaning an additional 22,000 sqm of GLA, spread on eight floors with office space and encompassing around 2,000 sqm of retail space on the ground floor.
Planned to be completed in Q1 2020, in an ultra-central location in Brasov, our company has started to develop AFI Park Brasov, an office project including 25,000 sqm GLA Class A Business Park, on top and integrated into AFI Brasov shopping mall that will offer 45,000 sqm leasable area and a mix of tenants. Two Class A office buildings are planned to be developed in two phases: Phase A: 15,000 sqm GLA and Phase B: 10,000 sqm GLA, designed to answer the expanding needs of IT&C and multinational companies in Romania by offering a suitable space in terms of technical specifications accompanied by required expansion options.
Romania has a constantly developing office market with healthy indicators (supply, demand, vacancy) and high quality office stock.
Regionally we have now for a number of years managed to attract large and important international players who have set up their offices and have since continued to expand in Romania, due to our high quality workforce as well as office stock tailored to their needs.
Fulga Dinu, Immofinanz
Immofinanz is one of the largest players in the office space market in Bucharest and owns nine income-generating office properties with a total lettable area of 190,000 sqm. The main assets in the office field include Iride Business Park, myhive Metroffice, myhive S-Park, Victoria Park, Baneasa Airport Tower, Global Business Center.
We continue to invest in our international myhive concept in Romania, which is well received by our tenants. The three myhive buildings in Bucharest are S-Park myhive, Metroffice myhive and myride Iride Tower with a total surface of 65,000 sqm.
At present, we are not developing any new office building, but depending on the market's evolution, we have the land to do so.
Both in Romania and abroad, offices have become more than simple workplaces. They are now platforms where companies can express their values, promote organizational culture and tell their story. Owners who understand this change of mindset among tenants and have the flexibility to translate it into personalized office space will be one step ahead in the market. For Immofinanz, this perspective is defining and through the international myhive office brand we are looking to answer the needs of our tenants.
Ema Iftimie, Globalworth
The Globalworth portfolio includes, in the Romania and Poland office, industrial and mixed-purpose properties with a total lettable area of approximately 950,000 sqm, with a value of about EUR 2 billion. In Romania, our buildings offer over 570,000 sqm, and in Poland we have reached a portfolio of over 375,000 sqm in less than a year, becoming the largest investor in the Polish office market.
In the coming period, we will continue to focus on identifying new opportunities that will enable us to consolidate our position and expand our portfolio both on the Romanian market and on the Polish market.
Currently, the third office building in Globalworth Campus, Tower 3 (35,000 sqm) in Bucharest is under construction and we will start work on a new phase of expansion of the TAP platform in Timisoara, which will offer approximately 20,000 sqm, which we will deliver in Q1 2019. Moreover, this year we want to start developing two new office buildings in the Barbu Vacarescu area, Globalworth Square and the fourth building of the Globalworth Green Court.
Romania is an increasingly attractive destination for real estate investments, and this is evidenced by the evolution of the total volume of investments in the second half of 2017, when it was 24 percent higher than in 2016 and the second largest volume in 2008.
Data for the first half of 2018 show that demand for office space remains high in Bucharest. In addition, the vacancy rate of only 8.4 percent demonstrates the need on the market for several office projects in the capital. These data give us every reason to believe that the ascendant trend of the local real estate market will be maintained at least until the end of this year.
According to market estimates, over 900,000 sqm of new office space will be delivered in Bucharest over the next three years, including around 185,000 sqm to be delivered this year and 350,000 sqm next year. So, given the high demand for workspaces, we expect the number of transactions and rents to grow at the same pace.
Compared to the other markets in the region, including Poland, in Romania the availability of high quality projects is still relatively low, but the forecasts for the next period are optimistic. First of all, if we look at funding issues, we will see that terms and conditions have improved considerably over the past few years, approaching what investors could now find only in the main markets of Central and Eastern Europe. In addition, the demand for easily accessible, energy-efficient Class A office buildings that provide easy access to public and private facilities and provide high-quality work spaces to their tenants together with other facilities, is increasing and thus contributes to maintaining stable rents and a high occupancy rate.
Liviu Tudor, Genesis Development
Genesis Property has developed the West Gate and Novo Park office parks, totaling approximately 150,000 sqm of Class A office space. Genesis Property is also the developer of West Gate Studios, the first privately owned campus, comprising 800 studios and apartments for rent.
In the next 18-24 months, we plan to invest in the new facilities area: finishing the outdoor pool in West Gate, parking on the Park & Go in the Precizia area, introducing a bike-sharing system in both parks and improving exterior relaxation areas.
Our efforts are designed from the perspective of the continuous improvement of employee experience. The presence of modern and varied facilities is increasing in importance in choosing an office space or a job.
The Romanian office market remains highly attractive for multinationals and will influence the development of office space and new buildings. They will also start looking at other major cities in the country (such as Cluj, Timisoara and Iasi), but there is an even greater problem of finding a skilled labor force than in the capital.
This trend is already seen if we look at these cities, where real estate activity in the office segment has started to accelerate in the past six months to a year.
But in order to maintain a healthy market, it is important that office development advances organically, with new tenants, not just from the relocations of multinationals.
People want to be given an experience, to have access to community activities, be connected both in the digital world and in the real world. That's why we thought of adding new facilities: an accommodation unit in the West Gate office park, an outdoor pool with terrace and treadmill, free Wi-Fi and relaxation in Novo Park.
And for us, the last two years have come with a series of contract extensions for periods of five to eight years (eg PPD Romania, Alpha Bank, HP, Luxoft), some together with office or office extension – Siemens or Societe General European Business Services.
We believe that the office market in Bucharest will enter an area of easy stabilization. New poles (eg the Orchid or Exhibition area) will probably attract important investments. But here, unfortunately, we are talking about relocations and not new tenants.
As we created the western pole, more than 12 years ago, with the development of the West Gate project, the city needs to develop in the south or east. Only then will we be able to reduce the pressure exerted on the capital's existing infrastructure.
An upward trend will be the development of co-working spaces. They are successful internationally, because they manage to meet the demands of the new generation, which wants non-traditional offices connected through technology and community needs. Lately we have seen the rise of various European brands. Noteworthy, however, is that the absolute global leader of the co-working spaces – WeWork – is waiting.
And we are preparing ourselves for the future – we will invest in a large project in western Bucharest.