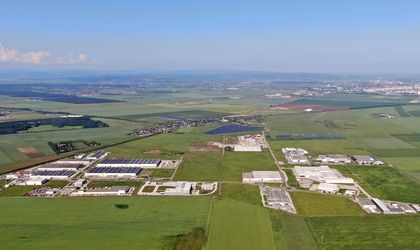 As one of the main drivers of the local economy, the Romanian real estate sector is highly competitive, showing sustainable development over the long term. Despite the Covid-19 crisis hitting Romania too, specialists say that the current turmoil will not have negative long-term effects on the local real estate market.
(Photo: PWP Industrial Park, developed by Alinso Group)
By Anda Sebesi
The stock of modern office spaces in Bucharest reached nearly 2.7 million square meters last year, up 12 percent compared to the previous year. An additional 700,000 sqm could be delivered over the next two years, which means a 25 percent increase over the current office stock, which will intensify the competition to attract new tenants, according to the annual report released by Colliers International. Tenants will thus be in a position of strength in negotiations, and vacancy is expected to climb to 12 percent, maybe even to 13 percent by year-end.
2020 is set to be a good year for the Bucharest office market, with Colliers consultants predicting demand for around 320,000 sqm, of which 120,000 sqm of net office space. As in previous years, IT and financial services companies will be the main drivers of demand in 2020.
"The wave of deliveries from 2019 is reduced this year to 200,000 sqm, but with a spectacular return in 2021, when developers anticipate a potential of around 500,000 sqm, a new historical record. Competition is on the rise among developers, but also between them and the owners of existing modern buildings, who just last year lost tenants occupying 140,000 sqm through relocations. Tenants will be the ones to enjoy opportunities, because Bucharest is starting to become a tenant's market for office buildings. There will be increased competition for attracting new tenants, including those from older buildings, some of which are in very good locations, but were built by inexperienced developers or have not been investing in technical upgrades. The vacancy rate could reach 12-13 percent, up from 10.5 percent in 2019," says Sebastian Dragomir, Partner & Head of Office Advisory at Colliers.
As a pillar of the local economy, the real estate sector is a significant contributor to what makes Romania a competitive country. According to Eurostat data, Bucharest-Ilfov has a GDP per capita representing 144 percent of the EU average, reaching Berlin or Madrid levels. In terms of population, Bucharest ranks 5th among EU capitals. As Alinso Group CEO Ivan Lokere puts it, future dynamics also look very promising and this will lead to a further increase in demand for offices, residential, industrial and logistics spaces. "International companies, as well as Romanian companies that have become big players, are increasingly looking for quality space. Besides traditional sectors such as industrial, manufacturing, and services, ICT especially is in high demand, now representing almost 6 percent of Romania's GDP. The roll out of 5G will further support Romania's technological leadership," says Lokere.
He adds that it is obvious that demand for qualitative well-located dwellings will increase further as a result of the growth of the middle class working in the ICT sector and building families and a bigger inflow of people from all over Romania or from abroad towards the Bucharest area. "In the long term, we do not expect a big net negative impact of the coronavirus crisis, as Romania has everything it needs to come out of this crisis stronger," says Lokere.
According to data from Colliers International, industrial and logistics overall take-up increased some 40 percent in the first three quarters of 2019, to 306,300 sqm. Private consumption remains quite decent in Romania amid (still) double-digit wage growth in year-on-year terms, meaning that the need for industrial and logistics spaces assigned to the expanding retail sector throughout Romania should remain a driver in 2020; so will the expansion of e-commerce, which is growing quite quickly alongside traditional brick-and-mortar operations. The same source says that industrial and logistics stock will grow considerably by 2023, if infrastructure projects really start to become visible and fiscal policies don't experience major changes designed to discourage investments in this segment.
As for the future of the office and industrial-logistics segments, Lokere says that demand will grow, especially towards high quality buildings and business and industrial parks in general. "Despite the short-term negative effects of the COVID-19 outbreak, this crisis will lead to an increase of the need for logistics space. This will come a result of an accelerated adoption of e-commerce and rising inventory levels, resulting from an increased awareness of supply chain stability following disruptions in transport and production," says Lokere. In his opinion, this crisis will fast track the trend to diversifying manufacturing locations, reshoring and de-globalisation to mitigate supply chain risks. "These trends will lead to higher needs for warehousing and production facilities. The reshoring will go hand in hand with robotisation and automation, and Romania has strong cards to be a net winner of this trend," adds the Alinso Group representative.
As for the office segment, Lokere says that the current crisis will accelerate remote working, now that companies have been forced to adapt their modus operandi. In Bucharest, the growth of the ICT sector will continue and so demand will further increase. Especially for modern, recent offices as companies have a greater focus on the health and well-being of their staff.
CEE more competitive than the west
The entire Central and Eastern European market recorded transactions worth EUR 14 billion in 2019, an increase of EUR 1 billion compared to the previous year, according to consulting company JLL. Poland accounted for 55 percent of these transactions. In all CEE markets where Skanska operates, including Romania, the market has been dominated by office projects.
"2019 was a very interesting year for the CEE real estate market – and office sector in particular – and very successful for Skanska. Due to the great quality of assets with stable tenants and higher return on investment than in western Europe, the demand for prime office buildings in CEE remains very high among investors. Skanska again attracted newcomers to the market, for example South Koreans who were very active in our region this year. Our strategy of delivering futureproof projects has proven successful over the years," says Katarzyna Zawodna-Bijoch, President and CEO of Skanska Commercial Development in CEE.
In the CEE region, Skanska, one of the largest office building developers in Europe, operates in Poland, the Czech Republic, Hungary and Romania, while in northern Europe it is present in Sweden, Denmark, Finland, and Norway. At the CEE level, the company's portfolio will grow this year by almost 220,000 sqm of LEED-certified projects and almost 80,000 sqm of WELL-certified office spaces.