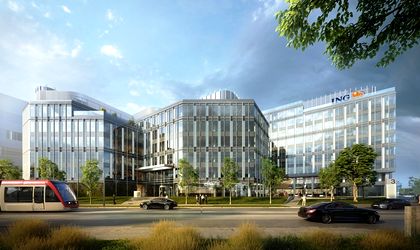 ANTISEL, a company with extensive expertise in biotechnology and healthcare diagnosis, leased 950 sqm of office and warehouse spaces in RAMS Business Centre, in a relocation process consulted by Crosspoint Real Estate.
RAMS Business Centre, a business centre with over 50 tenants will host the new headquarters in Romania for ANTISEL, with 600 sqm of offices. ANTISEL also leased another 350 sqm for warehouse spaces, and the contract was signed for five years. "I am glad for this great opportunity to assist the entire transaction, consulting both parties in this complex relocation process, and i am grateful for the trust. Considering that ANTISEL needed two kind of spaces, both offices and warehouse, RAMS Businesses Centre became the right solution for Antisel activities", explained Florina Grosu, Senior Account Manager, Crosspoint Real Estate, the broker who carried out the transaction.
The new ANTISEL headquarters meets all the requirements of the company, that aims to expand the business, and the very well connected area offers easy access for company employees, as well as an optimal storage of equipment.
"Due to the high growth rate of our organization, we recently faced with the challenge of relocating our diverse activities to a single location. Crosspoint took the time to understand the nature of our industry and the complexity of our operations, enabled us through the process of researching the real estate market, and quickly identified the ideal location for our new headquarters. The premises are currently being refurbished and we will be moving in the coming months, confident that in RAMS we have found the solid ground on which the future growth of the organization will be based on. Compliments to Florina Grosu, our partner in Crosspoint, our guide and navigator during the entire process", says Stergios Karamitros, ANTISEL director.
RAMS Bussiness Center is constantly setting new standards in the design and management of office buildings in Bucharest.
"Designed to meet the special requirements of national and international companies, RAMS Business Center offers an excellent work environment, but also complementary solutions for companies such as ANTISEL, which facilitates a better business operation, putting all its operations in one place. We thank ANTISEL for joining our community and I am convinced that their objectives will be met from their new headquarters, but we also thank Florina, our consultant, for an excellent collaboration", said Sergiu Ioanovici, Managing Partner RAMS.
Founded in 2005, leader on the land segment,  Crosspoint Real Estate offers both real estate trading and consulting services, as well as financial solutions needed by large investors, for all types of properties: offices, retail, industrial, land, hotels and residential. Crosspoint Real Estate is the international partner of Savills in Romania, one of the largest real estate companies worldwide, founded in 1855 – with revenues of over GBP 1.74 billion generated in 2020.
ANTISEL is founded by Apostolos Selidis in 1967 and activates in biotechnology and healthcare diagnostics. Today, the company is a uniquely positioned international organization with an exceptionally promising future. The company has expanded its partnerships and now covers the entire territory of Southeastern Europe. However, their core values and principles have remained unchanged since day one of ANTISEL. For more than 40 years they have been listening to their customers, sharing their concerns as well as their excitement, and committing all their efforts in helping them to make a difference.