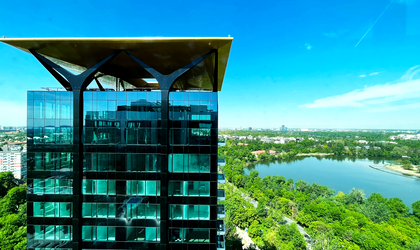 ALTIUS, leader in the Romanian veterinary market, has relocated its offices to the One Tower building, one of the first green buildings in Romania, starting April this year. The Class A office building within part of One Floreasca City multifunctional development already houses a community of top companies, which benefits from modern and certified workspaces.
ALTIUS, founded in 1999, constantly brings innovation in the veterinary medical field and releases on the Romanian market the newest products of world-renowned manufacturers. The company also invests in the education of veterinarians, supports numerous educational activities such as conferences, workshops and offers support scholarships of the highest qualification in Europe for Romanian specialists in the field of veterinary medicine.
The ALTIUS team has joined the growing community of One Tower starting this month, occupying an office space of ​​690 square meters, a modern space that meets all the latest standards in terms of safety at work. One Tower building is the first office building in Romania to obtain the LEED v4 Platinum Building Design and Construction certification, the highest level required by this certification. This is complemented by the WELL Health-Safety certification, which confirms the health and safety of tenants in the workplace. The teams working here benefit from a work environment with an attractive and comfortable design, as well as high-performance heating and ventilation systems. In addition, the community-cantered concept of this real estate development offers tenants a number of integrated facilities, as well as access to restaurants and cafes right within the complex.
"We are happy to take this step in the evolution of our company. It is a gesture meant to offer team members access to a modern work environment, close to the exceptional facilities of One Floreasca City ensemble. Our intention is to keep the company's offices in One Tower for a long time, and we are encouraged that this building will remain a landmark of modernity and sustainability for a long time to come", said Maria Dunăreanu, Marketing Director at ALTIUS SA.
—
"We welcome ALTIUS' decision to relocate its offices to a contemporary space that offers all the benefits of a rigorously certified building. Companies that focus on a healthy work environment for their teams are increasingly looking for such offices as those at One Tower. We are convinced that productivity and creativity are encouraged through a modern, comfortable environment, with state-of-the-art technologies and access to many services on the premises", adds Mihai Păduroiu, CEO Office Division One United Properties.
Other companies that have chosen One Tower as headquarters for their teams are McCann Worldgroup Romania, CBRE real estate consulting firm, Sanador, CMS Romania law firm, Element group, Egis and Astellas pharmaceutical companies, Saint Gobain company.