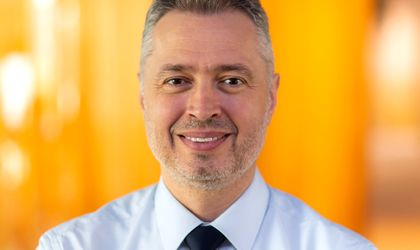 Given the generally difficult economic context, 2022 was decent enough for the Bucharest office market in terms of demand, with the first half of the year very solid and comparable to the good times before the pandemic, while the second semester was rather comparable to 2021. Overall, total demand saw an increase of some 6% versus 2021, to around 279,000 square meters, while new demand jumped some 17% compared to 2021, to 122,000  square meters, according to the 2022 Annual Report released by Colliers.
Last year saw a delivery of 125,000 square meters in new modern office spaces in Bucharest, taking the overall stock to nearly 3.3 million square meters. The major additions were two buildings in River Development's Sema Parc project (Oslo and London) for 31,500 square meters, Forte Partner's Tandem (21,000 square meters), Atenor's @ Expo – first phase (21,000 square meters), AFI Europe's AFI Tech (25,000 square meters) and Skanska's Equilibrium (almost 20,000 square meters). Colliers consultants note that deliveries were quite widespread throughout Bucharest, both in well-established locations and in developing areas. The new supply received a mixed reception, with fairly high vacancy rates for some of the newly delivered buildings.
"Last year saw a handful of meaningful events, like the fact that we have had some major new entries on the local market, notably the business service centers of Ford and Booking. It's also worth noting the material slowdown of take-up from IT&C companies, which in previous years accounted for at least half of the total demand, but last year generated 37%. There are likely several factors behind this development, from the continued tightening of the labor market to the potential impact of the new hybrid work regime. The entrenching of remote work in almost every organization has meant that offices no longer represent what they did in the past. However, we are still pretty far away from seeing this shift in its final form, as companies are still seeking the most appropriate formula or the correct hybrid work dosage. However, it's clear that increasing the number of employees no longer seems to necessarily lead to a higher office. At the same time, the need for a bigger office that some companies which expanded greatly before the pandemic may have been solved by remote work", says Victor Coșconel, Head of Leasing | Office & Industrial Agencies la Colliers.
Either way, given these shifts, there is quite a lot of activity regarding the renegotiation of contracts, including some of the bigger leases in Bucharest, less so on relocations as given the increased costs such an operation would incur, companies would rather keep their current offices. The only major instances where companies seem to actively seek relocations in the next couple of years seems to be related to a suboptimal quality of the building. Some prefer to keep their space given the uncertainties, others seem to believe that a smaller office is the way of the future.
Colliers innovates and responds to current challenges and future needs of the office market through Office 360°, a holistic approach to the work space and its impact on people. Starting with identifying the needs of each company, it goes on to define the available solutions and the implications of implementing the design to meet the needs and strategic plans of the companies. Colliers' cost control mechanism at each stage of the office transformation generates additional savings which often exceed 10-15% over the values typically obtained from contractors during tender stage negotiations.
In terms of rents, Colliers consultants appreciate that they are under upside pressures in some submarkets, even beyond the inflation indexation, and expect landlords to transmit most of the inflation indexation into rents. The exception to the norm might be related to some of the big tenants, which, in some cases, have quite a lot of bargaining power. Otherwise, a pre-lease for a built-to-suit project, for instance, would likely attract a rent that is some 5-10% higher than it would have normally been a year ago. Regarding vacancy, the mid-year figure of 15.25% remained unchanged at the end of 2022, but down from 16.5% at the end of 2021.
"This is quite a positive development as a year ago, we were expecting a potential increase of up to 2-3 percentage points in 2022, on account of the softer economic prospects and the impact of hybrid work, both of which did not lead to the negative developments we were expecting. An important thing to note is that while the aggregate vacancy rate is at around 15%, the vacancy for good, fairly new and stabilized offices (so looking past the newest buildings added to the market) is in single digit territory. In regional office markets, with a high concentration of direct deals, vacancy was, at the end of 2022, below that of Bucharest, attesting to the growing strength of these markets", underlines George Didoiu Director | Tenant Services | Office 360 al Colliers.
All in all, if Bucharest's office market is undersupplied on a per capita basis relative to Western European capitals, then Romania's regional office markets are even more undersupplied, particularly in light of their dynamic job markets.
Going further, the near-term outlook for the office market is defined by two big questions: how the Romanian economy will perform in 2023 and how the remote work story will pan out. On the first point, Colliers consultants think there are mostly reasons for a cautious optimism, as Western economies will likely still grow this year, albeit very modestly (versus previous expectations of a recession), while investments in Romania – not just those related to EU funds, are a cause for both short and longer term optimism.
Otherwise, with just a handful of large office projects on the horizon for 2023 – the pipeline for this year in Bucharest is just around 100,000 square meters, nothing for 2024 and an already subdued vacancy in good buildings in some submarkets -the market looks poised to shift to a landlord's market over the medium term (potentially starting in the second half of next year) if leasing activity picks up a bit ( although in the short term we may see possible accents of a tenant's market in some areas where large occupiers may free a substantial GLA of offices).
All in all, Colliers consultants look for demand and vacancy to remain stable (in a more hopeful scenario, maybe even further increase by some 10-15% in 2023 and for the vacancy rate to drop a bit further. For now, they remain on the optimistic side regarding the Bucharest office market, but it is important to be mindful of the risks that are on the horizon. Overall, our experts see the undersupply of modern offices in Bucharest (relative to other major European office markets) as an insulating factor over the longer term and they would rather expect the modern office stock to start growing again in a few years. Consequently, it could surpass 4 million square meters by the end of the new decade, and might even close in on the 5 million milestone, if no other (economic) crisis will show up on the radar. The company also expects the office market to grow in quality, not just quantity, as more and more landlords and tenants place greater emphasis on environmental criteria.