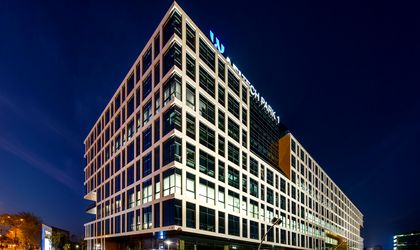 Real estate developer AFI Europe, which has developed the AFI Cotroceni mall in Bucharest, will start in May the construction of the second AFI Tech Park 2 office building, on the Tudor Vladimirescu Boulevard in Bucharest.
The investment reaches EUR 37 million, according to Doron Klein, the CEO of AFI Europe Romania.
"AFI Tech Park 2 will include an eight-storey building and 25,000 sqm of land. Construction will begin in the next month and will be most likely be completed in 2020.  After getting all the permits, the construction usually takes around 16 months. The investment value will reach EUR 37 million", Doron Klein stated.
According to Emma Toma, the leasing manager for the office division, discussions with potential tenants have already started.
AFI Europe also announced that it would build a residential project on a land located near the AFI Cotroceni Mall, as well as expand the AFI Park office buildings, which are located in the vicinity of the mall.
In June 2018 AFI started the construction of AFI City, the company's first large-scale residential project in Romania.
The project will deliver two buildings totaling 190 residential units, served by 228 above ground parking spaces. AFI City's first construction phase is estimated to be completed in the summer of 2019. Once all phases are completed, the residential project will feature a closed private community surrounded by green areas and sports facilities. In addition, AFI City has the important advantage of being right next to the Laminorului metro station.
Situated in the North-West part of Bucharest, along the Bucurestii Noi Boulevard in District 1, the project will include a mix of functional apartments, following an investment of approximately EUR 16 mln. The project is pre-certified by the Romanian Green Homes Association.
"The commencement of construction marks a milestone in the development of one of our key projects in Romania. When designing AFI City and especially afterwards, we noticed the lack of high-quality projects that were being designed and built in Bucharest, and we took into consideration the high demand for sustainable and functional residential units. Sales expectations are high and believed to move quickly due to the project's location and the project's overall private community design. We are not just talking about the location – which is on high demand nowadays – but also about the benefits of living in a Green Home, in a private community and linked to all ways of public (Laminorului Metro) and private transportation. And most importantly, it's an AFI project assuring excellent quality and guarantee of delivery," said Tal Roma, Business Development Manager, AFI Europe Romania.
About AFI Europe Romania:
AFI Europe has been operating in Romania since 2005. The company has developed and is managing AFI Cotroceni, the largest and most dominant shopping mall in Romania and among the leading shopping malls in the CEE region. The mall spreads over a leasable area of close to 90,000 sqm (GLA) and offers to its visitors a large entertainment area with multiple leisure options and a variety of over 300 shops of local and international brands, visited by 50,000 customers per day.
In October 2013, AFI Europe inaugurated AFI Ploiesti, the first and only modern shopping mall developed in the city centre of Ploiesti, following an investment of over EUR 50 million. The shopping mall offers a total gross leasable area (GLA) of 34,000 square meters spreading over two retail floors occupied by 100 national and international brands, including more than 7,000 sqm of entertainment.
Adjacent but fully integrated into AFI Cotroceni shopping mall, AFI Europe Romania has developed AFI Park, Bucharest's newest and most advanced Class A Business Park. AFI Park offers 70,000 of office leasable area occupied by multinational IT&C corporations. AFI Park 1-5 are close to 100% leased. AFI Park line-up of multinational tenants includes: Microchip Technology, Electronic Arts, Endava Romania, Cameron US, SII Romania, ORTEC Central & Eastern Europe, FotoNation, Telus International, Veeam Software and Dell SecureWorks.
AFI Europe Romania is also carrying out development works in the City Centre of Brasov, with the AFI Brasov project, which includes a 45,000 sqm GLA shopping mall and two office buildings of 25,000 sqm GLA.