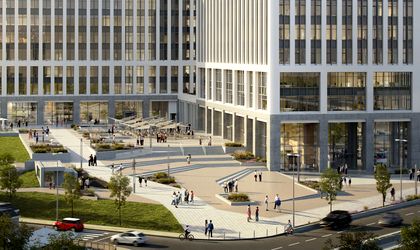 Some 176,000 sqm of office space was leased this first semester in Bucharest, 62 percent of which was the take-up (which excludes renewal and renegotiation transactions, according to data from real estate consultancy CBRE Romania.
The H1 total leasing activity was down by 14 percent against the same period a year ago, indicate the CBRE data. The drop is explained by the record level reported in H1 2016, say CBRE representatives adding that the leasing activity reported in H1 2017 is in line with levels reported between 2012 and 2015. The total leasing activity is forecast to increase to 412,000 sqm by year end, similar to the volume posted in 2016, according to the same source.
High tech companies were the most active tenants being responsible for 45 percent of the H1 total leasing activity, followed by manufacturing, industrial & energy with a 23 percent share and the professional services sector with 14 percent.
Over 90 leasing transactions involving office space were signed in H1, some 69 percent of which involved class A office space, according to the same source.
The average vacancy rate dropped to 11 percent at the June while prime rent and prime yield levels were stable at EUR 18.5/sqm/month and 7.5 percent, respectively.
Bucharest's modern office stock exceeded 2.72 million sqm at the end of H1. Projects delivered during the last months included the first phases of Timpuri Noi Square developed by Vastint in the central sub-market and the first phase of Globalworth Campus developed by Globalworth and located in the Pipera sub-market. Three other major projects are scheduled for delivery this year, thus hiking this year's stock of new deliveries to about 140,000 sqm.
Overall, a total of 450,000 were under construction at the end of H1 and scheduled for delivery between 2017 and 2019.
Simona Bazavan