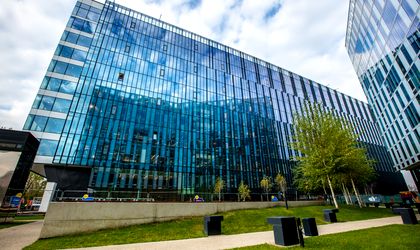 The office market showed signs of recovery this summer as transaction volumes increased in the first quarter of the year, including the share of pre-lease contracts. New office buildings were also completed in the Politehnica area of Bucharest. The recovery continued well into the second and third quarters since the gradual lifting of restrictions started in May carried on over the summer of 2021.
By Aurel Constantin
The volume of leasing transactions on the Bucharest office market reached 48,000 sqm in the first quarter of 2021, a 9 percent decline from the similar period of the previous year, when the COVID-19 pandemic was still in its early stages in Europe, according to research by real estate consulting company Cushman & Wakefield Echinox.
However, compared to the second half of 2020, when the market witnessed low levels of leasing transactions due to companies postponing important decisions regarding their office locations by as long as possible – which led to an 40 percent annual decrease of the transactional volume – we can now see the first signs of stability, with a 29 percent share of renewal contracts compared to an annual average of 45 percent in 2020. Moreover, the share of pre-lease contracts grew from 20 to 46 percent, which shows that some companies have outlined their post-pandemic working policies and are now in a better position to make decisions for the medium and long term.
The first quarter of 2021 saw the delivery of the Campus 6.2 building, part of the larger Campus 6 project developed by Skanska in the Politehnica area, and of the Millo Offices, developed by Forte Partners in central Bucharest, with the two buildings adding up to a total area of almost 30,000 sqm. By comparison, in the first quarter of 2020, Bucharest had deliveries of new office spaces totalling 79,000 square meters. However, this year's deliveries will be above 2020's – when 155,000 sqm were completed – as another approximately 220,000 sqm of new modern office space are due for delivery by the end of this year.
The commercial leasing stock of office buildings in Bucharest totals about 2.98 million square meters, with other buildings with an area of approximately 150,000 sqm being occupied by the owners, while projects with a total area of 370,000 sqm are currently under construction and scheduled for delivery between 2021-2023.
In this context, the contractual office space vacancy rate is 13.5 percent, with a significant difference between class A (10.7 percent) and class B (22.1 percent) office buildings. Although we are witnessing the gradual return of employees to offices, the use of space currently remains at a relatively low level of about 40-50 percent, given that most companies are continuing their work from home or hybrid schemes.
"We believe that the first three months of this year have brought positive signs, as we're noticing a significant number of pre-lease transactions of office spaces under construction, after a 2020 that was generally marked by delayed decisions regarding the occupancy of new office spaces. We're also seeing a significant decline in COVID-19 cases and a positive evolution of the vaccination campaign, two key elements that will favour many employees' return to the office, as they will feel safer at work, an essential factor in the return to a certain normality," said Madalina Cojocaru, Office Agency Partner at Cushman & Wakefield Echinox.
Some of the most important office projects under construction are One Cotroceni Park, J8 Office Park, Globalworth Square, U Center, Miro Offices, Tiriac Tower, Dacia One, Equilibrium II, @Expo or Sema London & Oslo, with developers already having signed pre-lease contracts for about 60 percent of the spaces.
Industrial and logistics
The local industrial and logistics market started 2021 on a positive trend, with the transactional volume for the first three months of the year reaching almost 200,000 square metres, double compared to the similar period of the previous year, according to an analysis by Cushman & Wakefield Echinox.
Contract renewals represented only 16 percent of the transactional volume, so demand was primarily driven by new contracts and relocation projects. More than 40 percent of transactions were pre-leased, so the market will continue to grow at a steady pace. Bucharest attracted almost 60 percent of the transactional volume, but significant activity was also recorded in Timisoara, Pitesti and Brasov.
Deliveries of new spaces in the first quarter of 2021 were limited. The most important development was the 10,000 sqm extension of the Decathlon distribution centre inside the WDP logistics park located at the intersection between the Bucharest – Ploiesti highway and the Capital ringroad. One of the largest transactions of early 2021 was also signed within the same project, when eMag leased 11,000 sqm.
"Companies in the retail, distribution, and e-commerce sectors are the most active on the industrial and logistics market and we are confident that they will be the engine for future logistics park developments in Bucharest and other cities. This sector is entering a new maturity phase, with diverse projects developed by both international developers and local players, with high quality standards for buildings and care for the environment, as well as stable tenants with well-defined plans and increasingly more sophisticated requirements," said Rodica Tarcavu, Industrial Agency  Partner at Cushman & Wakefield Echinox.
Currently, developers are building new spaces with a total area of over 450,000 square metres. Bucharest remains the most active market, accounting for about 55 percent of the spaces under development. Cluj-Napoca, Timisoara, and Brasov, three of the most important regional logistics markets, along with Craiova, where a new Profi logistics centre will be built, are also major markets.
Investment market still recovering
The first quarter of 2021 ended with investment transactions totalling EUR 85 million in Romania, a 42 percent decrease compared to the first three months of 2020, when the country had not yet been significantly impacted by the pandemic, according to Colliers's latest "CEE Investment Scene Q1 2021" report. Despite the slow start, investor sentiment suggests that there will be a strong pick-up in activity in the second half of the year, subject to progress in fighting the pandemic and open travel policies.
Overall, Central and Eastern Europe (CEE) investment flows were down by almost 48 percent from Q1 2020, at about EUR 2 billion. Poland remained the regional leader, with investment volumes accounting for 65 percent of the overall CEE6 total, followed by the Czech Republic and Hungary, with shares of 14 and 11 percent respectively.
The office sector was dominant all over the region in the first quarter of 2021 in terms of transactional activity, with a share of 50 percent of the total volume of investments, followed by industrial and logistics spaces, which are up significantly as investors diversify into this seemingly pandemic-proof sector (28 percent) and away from the more challenged retail and hospitality sectors (15 percent).
"This is well applicable to the Romanian market, where we had a volume of EUR 40 million going towards the office segment through Bucharest Financial Plaza and a 2,500 sqm office building in Brasov closed deals, representing 50 percent of the total Q1 2021 transaction volume. A rather unexpected share of 25 percent went to the hotel segment through Ramada Majestic and the Opera, Central, and Venezia portfolios, marking two new investor entries on the local market and bringing back interest in the hotel market and the soon expected recovery of this segment in Romania. The remaining share went nearly equally to retail and industrial & logistics assets through the Lidl portfolio and Solo Iasi transactions. About 30 percent of the investors were domestic, a still balanced figure for the investor pool in Romania," explains Anca Merdescu, Associate Director for Investment Services at Colliers.
Furthermore, Colliers consultants have noticed increased interest in real estate from various investors, even from some who were not necessarily specialised, but looking to diversify their asset classes. Key criteria for such interests are definitely long-term leases of more than 10 years and a financially solid tenant. Such investment opportunities are highly regarded and have a strong potential to set off yield compression. Bucharest has some of the highest yields in the region for the office sector (7 percent), compared to at most 4.25 percent in Prague, 4.7 percent in Warsaw or 5.25 percent in Budapest. Going forward, rents will remain relatively stable, according to Colliers International, with prime headline still around EUR 18/sqm in the office sector in Bucharest (and a regional average of EUR 14/sqm), and between EUR 11-14.5/sqm in other cities in the country.