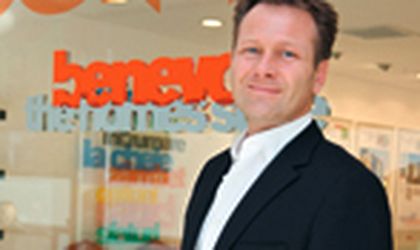 Canadian businessmen Michael Topoliski has bought 900 apartments in 14 residential projects in Romania. He is one of the foreign buyers who bought hundreds of off plan apartments and stayed in the shadow. But the time has come for investors like Topolinski to become more visible on the market, because the time has come for them to re-sell the apartments to larger audiences.
Michael Topoliski came to Romania because of property investments. In 2006, he was visiting the country for the first time and, although still on holiday, he decided to buy some apartments in a residential project in Bucharest. "I wanted a project which was set for delivery within a year, which was already under construction and which was built by a company that had been doing this for at least ten years," Topolinski explains. He first invested in Quadra Place project.
One year later, he decided he should continue to invest in Romanian property and eventually moved his family to Romania. "We started to buy more apartments and during the autumn of 2007, we reached a portfolio of 900 apartments in 14 residential projects," says the investor.
All in all, the investment in the portfolio of apartments was EUR 25 million, the price paid as advance to developers.
"We have received a 20 percent discount on the apartments, and have paid 20 percent upfront of their price. Based on their selling price, these apartments are worth EUR 160 million," said Michael Topolinski.
Together with his brother, Michael Topoliski have recently created Benevo company, a company which is now re-selling the apartments the two have in their portfolio.
Topolinski's initiative is among the first official such moves and comes as competition for developers, some of which still have unsold apartments in their underway projects.
Investors like Topolinski bought off-plans apartments, sometimes in bulk, and have paid discounted prices for the properties. They are now selling at the same price as developers, and their margin is the discount they have negotiated with the developers when initially buying from them.
Topoliski's idea is however not about just re-selling apartments. To attract customers, he has combined several services and discount offers for potential buyers.
"We know the market is different than six months ago, there are not so many buyers for off – plan apartments," explains Topolinski. The bulk of Benevo's offer is made of already finalized apartments,
like Quadra Place, or apartments which will be delivered in several months.
The Canadian plans to further increase the portfolio with new apartments. "Although the real estate market has slowed its increase pace, we are confident in its development on the long run and in the fact there is a fundamental need for houses and for associated services," said Michael Topolinski.
The biggest bulk of Benevo's apartments are in Cosmopolis residential project, where the Canadian investor owns 225 apartments. In FeliCity, a project developed by GTC, Topolinski owns 200 apartments. In GreenLake project, the investor has 129 apartments, while in GTC's Colentina residential project, 100 apartments.
Opus Land, developer of Cosmopolis project, said it has already sold the first stage of the project, some 565 apartments, and other 600 in the second stage, which makes Benevo the holder of almost half of the number of apartments which will be delivered in the first stage in the project.
The investor has bought apartments in various delivery stages for all the 14 projects. He says renting the apartments has never been an option and all apartments will go for sale.
"If we receive larger request for apartments in a certain project, we will try to buy into that project as well," says Topolinski.
Investment funds also hold large apartment portfolios
While the Canadian investor acted as private investor, several investment funds have also bought off – plan apartments in bulk.
The difference is they haven't started to sell them to the larger public. Yet.
The Central and Eastern Europe Residential Opportunity Fund (CEERO), launched in 2005 by Salamanca, has so far bought 636 apartments in Romanian projects, according to data from Salamanca. The fund is fully invested and will mature at the end of 2008.
In Romania, CEERO bought 89 apartments in Impact's Greenfield residential project, 105 units in the first phase of Cosmopolis residential and as many as 442 apartments in the Green Park project in Iasi.
Another investment fund with stakes in Romanian residential projects is the European Residential Property Fund (ERPF), a regulated open ended fund administered by TRI Investments.
Salamanca has recently been appointed investment adviser to ERPF.
The fund has so far made three investments in Romania. The most recent is the investment in Advance development's Cernica residential project.
ERPF has committed itself to 200 apartments in the project, according to data from the company, with the entire project scheduled to feature 1,000 flats in total.
The fund has also acquired the EUR 12.8 million Perla Residence, featuring 136 apartments, a project developed by Crown Constructions. Fund representatives estimate that the property, due for completion in January 2009, will have a 19.18 percent fund level internal rate of return.
The fund has also bought 69 apartments in Eminescu view residential project for EUR 9.5 million.
Most recently Salamanca has launched the European Real Estate Opportunity Fund, a Pan-European open ended opportunity fund, with the aim to raise EUR 500 million.
Romania Invest, a Norwegian investment fund, has been investing extensively in Romanian residential projects.
The fund currently owns more than 1,000 apartments in projects such as Vitan Platinum Towers, Residenz, Ten Blocks and Planorama. More recently, the fund bought apartments in Copper Beech's Blue Tower project and Adama's Armonia project.
The fund was planning to sell the apartments it holds in Residenz project once it will be completed. The fund was hoping for 30 to 50 percent profits from re-selling the apartments.
By Corina Saceanu