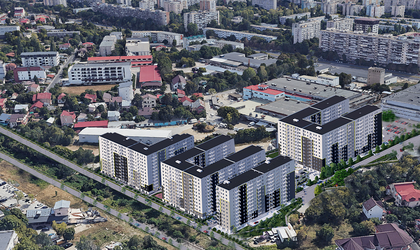 In order to support those who want to buy an apartment, but they are not qualified to enter a mortgage contract or are afraid of future interest rate increases and inflation, Novum Business Invest has launched a system of fixed and equal rates for the purchase of new apartments, in Bucharest.
The apartments available for sale in the installment system directly to the developer are located on boulevard Timișoara, no. 56, Bucharest. They are part of a large residential complex of Novum Business Invest which, at completion, will total over 1000 units. A community will be created, as in all Novum Invest projects, with multiple facilities for tenants – commercial spaces, playgrounds, event areas, relaxation areas, after-school, etc.
"We are launching this unique installment payment system at the developer, with an extended payment period, for those who do not have an option in bank credit, but want a property for personal use or investment. With a solid and successful track record in the development of real estate projects, always meeting delivery deadlines, Novum Business Invest is in a stable and consolidated position on the Romanian real estate market to be able to offer potential buyers a flexible acquisition system. The rate system is predictable, with fixed and equal installments  throughout the contract period, independent of macroeconomic fluctuations and shocks. Each client will have a clear situation of paying the installments in a maximum of 10 or 12 years, depending on the down payment amount," says Alin Popa, General Manager of Novum Business Invest
Novum Business Invest offers two purchase options, depending on the down payment amount. For a minimum of 25%, the client will start paying installments from the moment of signing the promise to purchase, the payment period being, in total, a maximum of 12 years. Those who choose to pay an advance of at least 40% can opt for the payment of installments to start from the moment of handing over the apartment, the payment period being a maximum of 10 years.
"We are going through a period of economic uncertainty. Inflation is at high record levels, both in the US and in Europe and Romania, and the only way to reduce the inflationary tide is to raise interest rates. This already translates into rising interest rates – 3-month ROBOR of around 8%, but also an IRCC that will follow the upward trend, the latter being the arithmetic average of the daily interest rates assigned to interbank transactions from the previous quarter. So, in the next calculation, even IRCC will no longer be a refuge for Romanians who want to protect themselves from rising interest rates. What we propose is a transparent payment system that is a great way to buy a property while simplifying the purchase process. We are considering a possible expansion of this payment system for future projects as well," adds Alin Popa, General Manager of Novum Business Invest
The under construction compound where the apartments are available for sale in the installment payment system directly at the developer can be visited physically, at the address or the project status can be followed by accessing the website that the developer updates monthly with the progress of the works https://www.novuminvest.ro/novum56.