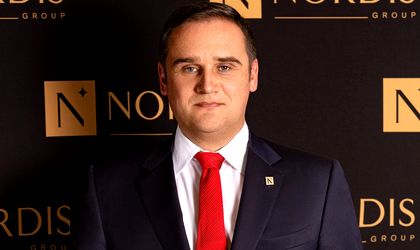 Nordis Group, a real estate company specialized in development of luxury hotels and residential complexes, announces the expansion of projects on the Romanian coast by purchasing new land of over 23,000 square meters, following the Nordis Mamaia 5 **** complex *. Thus, it becomes the largest hotel and residential development in Romania, with final investments of over 200 million euros.
Construction at this stage of the project, on a new area of almost 20,000 square meters of land, will begin later this year, after the launch of the Nordis Mamaia 5 ***** hotel, the largest hotel in Romania, and will include a a total of over 1,400 new premium apartments and over 10,000 square meters of commercial premises.
At the same time, on another recently purchased land, with an area of over 3,000 square meters, a modern parking lot with 11 floors will be built, which will include over 1,200 parking lots and valet parking services. Facilities of the new area of the complex include its own beach, restaurants and cafes, promenade, children's playground, ice rink, Christmas market, premises that join the existing facilities from the first stage of the project, namely SPA, swimming pools, cinema conference rooms, restaurants and cafes, shopping gallery, beach of over 20,000 square meters.
The entire Nordis Mamaia 5 ***** complex will include over 3,000 hotel rooms and apartments, but also over 20,000 square meters of retail facilities. Thus, following an investment of over 200 million euros, it will become the largest real estate development on the Romanian coast and one of the largest investments in Romania.
"We aim to bring exceptional real estate products to Romania, which exceed the highest quality standards. The demand for the first stage of the project exceeded our most optimistic expectations, our clients appreciated the special attention to detail, architecture, interior design and, especially, the quality materials we use and although we faced various obstacles in this uncertain period, today we are very close to the opening of an exceptional ensemble on the Romanian coast. That's why we bought the new land areas, so that by expanding Nordis Mamaia, to meet our customers with luxury apartments, which offer a premium lifestyle, with all the facilities and services of a 5-star hotel. We do this because Romanians want homes to a high standard with excellent facilities. Equally important is the fact that Nordis Group provides a new chance to Romanian tourism, putting Romania on the map of luxury destinations, which we are sure Romanians feel proud of, " said Emanuel Postoaca, Founder of Nordis Group.
The entire complex will be open 12 months a year and will also include a premium shopping gallery with boutiques of luxury brands, a casino, a medical and physical therapy clinic, a museum of contemporary art, so that living here provides all the facilities of a superlative lifestyle, but also a grand event hall for concerts or sporting events.
Nordis Mamaia 5 *****, mixed luxury hotel and residential complex, will complete the first stage this year
Currently, the first stage of the residential and hotel complex Nordis Mamaia 5 ***** has an occupancy rate of over 80%. The construction comprises 747 hotel rooms and suites and 613 residential apartments and has the largest SPA on the Romanian coast, with an area of over 3,200 square meters.
By this project, the developer brought a new concept to the Romanian market: investing in a hotel room that generates money for the owner and that will also enjoy a 5 ***** holiday for a week, each year, included in the package offered by Nordis.
Investors can purchase hotel rooms, which are then rented by the developer. Thus, each landlord will receive a fixed monthly rent without having to worry about related tasks, such as maintaining the purchased premises, renting it to tourists or periods without customer flow. Investors who choose to take advantage of this innovative concept for the Romanian market benefit from a guaranteed yield of 7%, the rooms will be sublet in the hotel regime to tourists. The investment in the first stage of the Nordis Mamaia 5 ***** complex amounted to approximately 90 million euros.