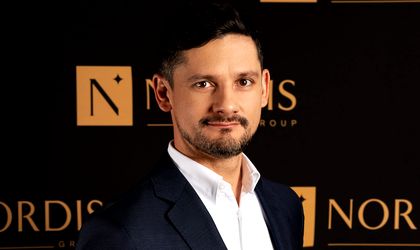 Nordis redefines the Romanian luxury complex market through hotel and residential projects in Mamaia, Brasov, Sinaia and even Bucharest. The premium projects are turned into reality through investments of tens of millions of euros and with a team of architects coordinated by Arch. Bogdan Radu, Managing Partner of Nordis Architecture. It announced today the expansion of the team and presents the key features defining the company's projects.
Bogdan Radu started collaborating with Nordis Group in October 2019, and this approach led to the emergence of Nordis Architecture. If the initial team consisted of three members, now it is constantly evolving and has 16 architects, which turns into reality the requirements for luxury ensembles in Romania. Bogdan Radu has a master's degree in urbanism, a doctorate in architecture and since 2010 he is an assistant professor at the "Ion Mincu" University of Architecture and Urbanism. He has over 16 years of experience in the field and for Nordis Group has so far delivered three unique projects in the Romanian market: Nordis Mamaia 5 *****, Nordis Sinaia 5 ***** and Nordis Primăverii Boutique.
Each of these luxury projects exceeds the standards known in the industry. The Boutique Springs, for example, stand out both for an exceptional design integrated into the urban environment and for the innovative system designed to make the most of the space for car parking. The Sinaia 5 ***** project started from the idea of ​​creating the most spectacular service area (SPA, restaurant) at Prahova Valley and to delight all the guests with an amazing panorama of the whole resort. And Mamaia 5 ***** stands out for its ingenious technique that allows it to reach a higher height than any other estate in the area and to offer residents and tourists in penthouses a 360-degree view of the Romanian coast . Regardless of these innovative approaches, each project is defined by the emphasis on premium, luxurious finishes, with increased attention to detail and the use of the highest quality materials.
"Architecture is an act of creation and an art. What we are trying to do, and we succeed, is to redefine how things can be achieved in Romania and to consolidate a trend in local luxury architecture. We can look at things the other way around: what we do here can change Romania in the sense that other developers can also increase the quality of construction. We have the ability to take others with us, while we are far in front. We have a vision, we know where we want to go and what feelings we want each project to create. That guides our work", Bogdan Radu explained.
Bogdan sees any building as a sculpture, and the value of each "sculpture" is given by its uniqueness. "Romanians want something unique, they are tired of banality, and what makes me very happy at Nordis Arhitectură and what we do here is the fact that we got rid of the worry of the price struggle that leads to lower quality finishes. We simply value quality, premium finishes and the luxurious experience. We get out of the ordinary by every project, and this is not easy. 90% of the buildings are the same. We differentiate when it comes to the remaining 10%. For those percentages we aim to find the most ingenious and necessarily achievable solutions. Nordis hotel and residential complexes allow and offer total creativity. When people come to us, we want them to have experiences, sensations, the sense of  belonging. Then we feel that our work is appreciated from all points of view, when someone wants what we offer. Why don't they go to the competition? Because it has nothing to do with Nordis ", Bogdan Radu added.
"I like organic architecture, that's why I got my doctoral degree in this field. That is why not all Nordis projects can have the same image. Each is designed for the place where it is discovered by people, through its defining elements. But, by the luxury of finishes, the way of thinking and organizing and the principle of operation, all the guests can realize it is a Nordis construction, but each building must be unique in its own way. And I'm very happy to be surrounded by colleagues who have understood that they can unleash their imagination. And they understood where we needed to arrive. What we can guarantee to clients who invest in our work is the confidence  they will always be proud to own a Nordis property ".
Nordis is a pioneer in providing the highest quality hospitality services, providing guests with an internationally defined lifestyle of excellence. From this year, the owners of apartments in Nordis Mamaia 5 *****, but also tourists will have the opportunity to explore a new landmark for customized luxury life in Romania.