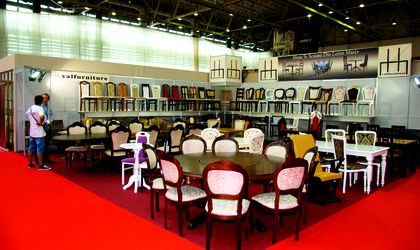 With plans to refurbish a multi-purpose residential room, BR's reporter discovered a battle between old and new at the expo SIM (Salonul International de Mobila), Romania's first exhibition of international furniture manufacturers.
Andreea Ovanezian
Organized by the Romanian Furniture Manufacturers Association (APMR), September's expo at Romaero-Baneasa hosted approximately 150 exhibitors in three pavilions dedicated to furniture, accessories and wood-processing equipment. They included manufacturers, wholesale and retail distributors, designers and architects.
 
Although I anticipated a quick visit to SIM, I lingered far longer as I discovered several 'flowers' blooming in this field of airport hangars. Among 'the young, the new and the interesting' at the expo, I found several resources that warranted follow-up.
First there was the free consultation from a graduate of the school of interior architecture which yielded a blueprint for my room and practical advice for proper bookshelf construction. I also met an enterprising team of Romanian and British designers with fine arts backgrounds, who 'rescue' and restore antiques, adding their own eclectic touches (Chambres D'Or). Then I found a variety of Austrian glass and metal laminates for wall décor, as well as an array of Dutch natural fiber wallpapers, sold through both retail and wholesale distributors (Theta Furniture & More, Gelu Trading Company). Additional finds included a Romanian manufacturer of curved cabinets and shelving (Romvitrine); a local distributor of electric fireplaces (Seminee Electrice) produced in Canada and Italy; a Romanian CAD program with furniture design capabilities (LxCAD); and software-driven equipment for industrial wood-processing that carves furniture as if lovingly handmade (local distributor EET).
 
Among 'the old and the staid' at the expo, I was surprised by the ample display of heavy wood furniture (in traditional, rustic and classical styles) which did not seem to draw much visitor interest.
Since I am not partial to this type of furniture, I question whether a significant customer segment still exists to sustain production, and I wonder if these manufacturers are having trouble breaking with past trends. Moreover,
I would have liked to get the heavy wood clan and the avant-garde designers together at the expo, to brainstorm some fresh designs evoking the future rather than my grandparents' décor.
"I don't think these manufacturers think they need our help," a young designer whom I spoke with mentioned discreetly. According to the president of APMR, Aurica Sereny, one of the goals of the expo was to provide exhibitors with the opportunity to meet potential business partners, compare competitor offerings, identify enduring market trends and improve their future offerings.
 
Suggesting the need for change, Sereny reveals that many of the Romanian furniture makers who relied solely on the domestic market have become insolvent. Meanwhile the export market has continued to provide some manufacturers with a refuge during the crisis. In 2010, Romanian furniture exports increased 117 percent (with Germany the largest market), while domestic consumption decreased 20 percent and industrial production fell 4 percent as compared to the previous year. In 2011, while furniture production for the retail market has seen a small improvement despite the crisis, production for institutional customers (hotels, offices and developers) has suffered a substantial decline due to uncompleted real estate projects.
Although 2010 was not a good year for the Romanian furniture industry, Sereny remains optimistic about 2011 based on her members' feedback from their exhibitions abroad, and their anticipation of market recovery for their multinational institutional customers.
 
editorial@business-review.ro
1 The Faculty of Interior Architecture is a ten-year-old department of the Ion Mincu University of Architecture and Urbanism
2 Aurica Sereny citations from video interview at Simexpo.ro; APMR data for 2009 and 2010 based on first ten months of the year; 2011 data not yet available