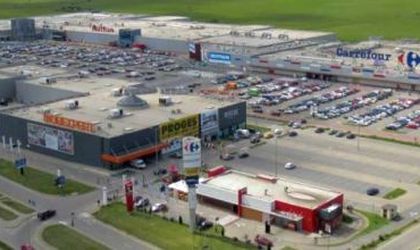 At the end of June 2019, developer NEPI Rockcastle's assets were valued at EUR 6.1 billion, up EUR 200 million from the same period in 2018. The company recorded revenues from rents of EUR 199 million, and its vacancy rate fell from 3.8 to 2.6 percent. NEPI is planning to develop residential projects near its shopping centres, with the first units scheduled to be ready in about two years.
The group recorded 158 million visits to its shopping centers in the first half of 2019, a 1.2 percent year-on-year (YoY) increase for this type of property. The countries leading this growth were Poland (3.1 percent), Bulgaria (1.9 percent) and Romania (1.7 percent).
Sales recorded by the tenants malls owned by NEPI Rockcastle increased by 8.2 percent, and the strong increase of sales in Romania (10.3 percent) was mainly determined by successful marketing campaigns and/or the reduction of vacancies in shopping centers such as Ramnicu Valcea Shopping City (31.5 percent), Timisoara Shopping City (21.7 percent), Galati Shopping City (17.7 percent) and Targu Jiu Shopping City (12.7 percent).
NEPI Rockcastle's investments in Romania 
Shopping City Sibiu is the largest shopping center in its region, with an 81,600 sqm rentable area. The GLA expansion serves a diverse demand through its expanded fashion offer, two hypermarkets and a DIY store. The group completed a 3,700 sqm extension and a refurbishment of 34,600 sqm in April 2019. Several fashionable anchors, such as Cropp, De Facto, LC Waikiki, Mohito, Reserve and Smyk were added. Some existing stores have been refurbished and expanded, for example CCC, Douglas, Humanic and Noriel.
The last phase of the expansion is the opening of a Cineplexx multiplex cinema, scheduled for Q4 2019.
In May 2019, the company sold its 50 percent stake in The Office Cluj-Napoca to Dedeman, and in July 2019, NEPI Rockcastle signed a non-binding letter of intent with AFI Europe for the potential sale of the remainder of its office portfolio, which includes four office buildings, with an estimated value of EUR 307.9 million.
The group is also developing a second project in Sibiu, called Sibiu Promenade, with an estimated area of ​​42,200 sqm. The dining and entertainment area comprises 18 percent of the GLA.
The Sibiu Promenade will have the first Kaufland store located in a mall, and will open in the fourth quarter of 2019.
The company has also expanded and upgraded Shopping City Buzau to include a Cinema City, a food court and some new fashion brands. The first phase was successfully opened in early August 2019, complete with new tenants such as Bigotti, Marionnaud, Office Shoes, Tezyo and Tutti Cafe. The next phases will consist of a dining area with an outdoor terrace, scheduled for the fourth quarter of 2019, and the completion of the cinema, planned for the second quarter of 2020. When completed, the center will have 23,500 square meters.
Another mall in development is Shopping City Targu Mures, where the company has obtained a building permit for an area of ​​40,000 square meters. The project, anchored by Carrefour, will be completed in H1 2020.
Investments in offices to continue, new residential projects planned
The group continues to invest in the development of mixed-use properties that provide synergies with its commercial centers. NEPI will develop the office component of the Promenada Mall extension in Bucharest, for an estimated cost (including additional parking) of EUR 55 million.
The group also plans to build residential developments next to its shopping centers. These developments are currently in the design and authorization phase, have an estimated construction cost of EUR 83 million, and the first units will be completed in two years.