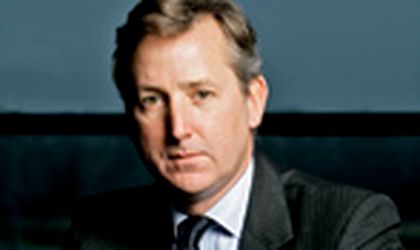 Briton Michael Lloyd, one of the veterans of Romanian real estate, has started his new venture, Quintet Asset Management, in a similar environment to how it was in 2000, when he was drafting the Baneasa project. A crossbreed between consultancy and investment bankers, as Lloyd describes it, with a touch of development as well, Quintet is preparing the ground for the next market upturn.
"It was a classic real estate cycle," says Lloyd. It started in 2000 with offices, then followed retail, industrial came along and it ended with residential. "It was also a lot of hot air, as with all booms," he adds. "My grandfather used to say, when we were sailing, that anybody can sail when the wind is blowing."
Between 1990 and 1992, a similar series of events as those about to happen in Romania happened in the UK, and it took the UK four years to work its way out of it, Lloyd remembers.
In his offices near the Baneasa residential area, where he stayed on as shareholder after leaving his executive position with the development company, Lloyd is looking to the next five to ten years, knowing he won't make any money until next year.
"This year will be about investments," he says, upon presenting his team. His four partners, three of whom have worked with Lloyd in the past, are tasked with finding investment opportunities and development sites, organizing financing means and assessing suitable projects.
"For every story of misery on local real estate, a vulture fund is born out there, and Quintet is in touch with some of these funds looking at the Romanian market and at the Black Sea basin region," explains Lloyd.
He has brought along Startos Angelinos, former operations manager with Romtelecom, to be the firm's CEO. Simon Trappes-Lomax, who has ten years of experience in SEE real estate, will evaluate the deals Quintet will be looking at. The firm has looked at a dozen projects already, but "we're being doubly rigorous in assessing them. One in 20 might seem attractive," says Trappes-Lomax.
Paul Philips, the chief development officer, previously with Global Finance, will look at development sites, and he is already working on a first project. Ross MacDiarmid, also a veteran in Romanian real estate, will be raising funds for Quintet from his chief investment officer position. MacDiarmid, who in the 90s was involved in the French Village sale, came from London, where he has worked for Dawnay Day.
These are difficult times, and they're about to get worse, says Lloyd. This view informed his idea to create a firm which will benefit from the market downturn. "When I hear about companies like EFG or Copper Beech, I realize it will be very difficult in the next few years," says Lloyd. "The market is not totally distressed, it can still go down, maybe it will flatten by summer, and then go down again by year-end," Lloyd predicts.
Development stopped in a short period of time. In December last year people thought it would be fine, remembers Lloyd, who compares what happened on the Romanian market to a high-speed crash. "Now we are picking up the pieces and evaluating what's left, after which we will launch an investment fund," says Lloyd. Quintet, with Lloyd as single shareholder, will also do investment management for an investment fund, as well as co-development.
The main problem, says the chairman, is the high cost of land that projects bring. As for the pricing of properties in distress, "we are already seeing 20 cents per euro prices on distressed properties," says Lloyd, when reminded of his price forecast late last year.
"We're going to see a few people going bankrupt quietly, when they see they can't meet their payments. A lot of people will be very confused," says the Briton. "It is important to look at what banks will do, they will want to clean their balance sheet," he explains, pointing to one of the areas Quintet will also focus on.
Lloyd, who says he has invested EUR 1.5 million in the business so far, has already received commitments which could cover the start of investments in various assets.
The businessman, who now lives in Switzerland with his family, will be traveling to Romania almost every week. "I tried to leave Romania three times, but each time I came back," he concludes.
By Corina Saceanu