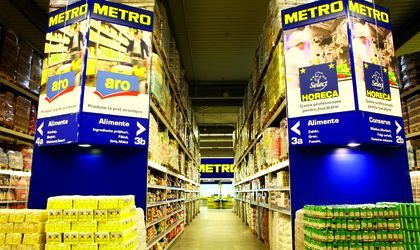 Retailer Metro Cash & Carry has opened its fifth cash & carry distribution center in Bucharest in the eastern part of the capital. It is the 25th outlet of this type that the company owns locally. It spreads on a total surface of 13,000 sqm and required a EUR 15-20 million investment to be built. The total sales surface is 8,300 sqm, with 19,000 products being sold in the store, which employs over 250 people.
"The opening of the new distribution center proves that Bucharest is a continuously developing market, with a remarkable growth potential," said Dusan Wilms, general manager of Metro Cash & Carry Romania.
Metro Cash & Carry is part of Metro Cash & Carry International. It entered the local market in 1996 by opening its first distribution center in Bucharest. Today the store network includes 25 distribution centers: five in Bucharest (Militari, Voluntari, Berceni, Baneasa and Policolor,) two in Brasov, Constanta, Timisoara, and one center in Cluj, Bacau, Iasi, Craiova, Baia Mare, Galati, Ploiesti, Oradea, Sibiu, Suceava, Pitesti, Targu Mures, Arad and Deva. The company recently launched a new store concept – Metro Punct – targeting resellers.