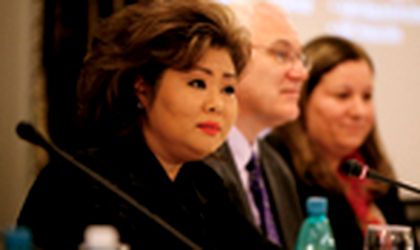 Mega Company which manages steel-structure constructions, intends to invest EUR 60 million in the two other outlet developments scheduled to start in 2009, delivering about 15,000 sqm rentable area each, according to the MD.
Retail park Mega Designer Outlets, located in western Bucharest on the ring road and near the Bucharest-Pitesti highway, will be developed in two stages, with the first, scheduled for completion by year-end, delivering 16,000 sqm of rentable area.
The entire outlet park, which will be finished in 2009, will be built on 160,000 sqm and will deliver a rentable area of 38,600 sqm and 80 shops, a food court and entertainment area.
"As is usual in the outlet business, the price of products will be 70 percent less than in shops in the city. We estimate sales of EUR 45 million in the first phase of the project and EUR 90 million of sales yearly after the completion of the project," said Chang S. Oh.
To develop the project, he said the company would use its own funds to meet 60 percent of the costs, and bank loans for the rest. The Mega Designer Outlets project will be developed with partners such as Basuhail Architects, Transystems, LADA, MIC Associates and Orchid Group, according to the company's reps.
Mega Company has built 164,000 sqm of industrial and commercial space in Romania, the largest project being the Key Logistic Center located in the Chiajna area, which delivers a 25,000-sqm rentable area.
Similar outlet-type projects have been announced in Romania, especially in Bucharest last year. The best known is Escape Outlet Shopping Center, slated to be built close to the Bucharest-Pitesti highway and developed by American Outlet Overseas. According to the developer, the outlet retail park, a EUR 30 million investment, will deliver up to 75 shops.
Magda Purice