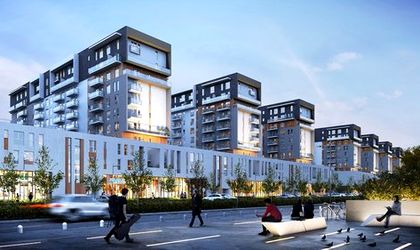 London Partners, British developer, will start Phase 3 and 4 of Belvedere Residence project located in Floreasca, Fabrica de Glucoza street. The developer bought the rights for the first 2 phases of the project, already sold to end-customers, and an additional plot of 2.4 hectares where the next buildings will be built.
The developer bought the project and the land from Puiu Popoviciu company, who built the first phases of the residential project. London Partners also bought 2.8 hectares of land on the Exhibition Boulevard, where it will develop a mixed project, residential and commercial, through a new company, Sanro Capital.
London Partners, owned by undisclosed business-man from Great Britain and Romania, has also developed the Soho Unirii residential project in Romania in which it invested EUR 28 million. The apartments there are 70 percent sold.
Belvedere Residences will have another 966 apartments after the next phases. .
"Phase one of Belvedere is done and phase two will be ready this summer. In the next phases we will also develop 4,500 square meters of commercial space, in addition to the residential spaces. The project continues the development of the area, which is still poorly offering residential properties. It's an opportunity. It has value and an optimal design. The whole project is sold already 45 percent sold," says Richard McLaughlin-Duane, CEO of the company and one of the shareholders.
The third phase has begun and will include about 480 apartments. Delivery will be in the summer of 2021.
"We have decided not to change the Belvedere project essentially, it is something that already had success. As for buyers, most work in the area. Prices in Belvedere will rise, primarily due to higher construction costs and revenue," adds McLaughlin-Duane.
The company invests its own money, not from financing sources. Currently is negotiating for another land in Bucharest and it looks for project in other areas of the country.