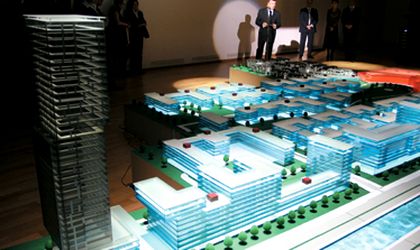 Local developers cover the majority of the market, whether they work alone or in joint ventures with foreign-financed companies. "Mixed joint ventures cover around 40 percent of the developments, while 30 percent is being covered by Romanian companies only. The rest goes to foreigners," Cristian Ustinescu, business development manager with DTZ Echinox, told Business Review.
Local developers cover most of the market at least by their number, but taking into account the areas they build against the total delivery on the market, the local weight is lower, believes Levis Vlad of Jones Lang LaSalle Romania. "Local developers are generally involved in medium size projects, around 5,000 sqm per building," Vlad said.
The residential market bears the biggest mark from local developers. Most of the projects having been launched, both large and small, luxury projects, are being built by local developers. "The explanation is simple. Locals prefer to do what they know, and get involved in a market segment which has been important to them, after years of staying in communist blocks," explains Ustinescu of DTZ. So while around 70 percent of the residential developments market is being covered by locals, with offices the situation is exactly the opposite. Romanians build smaller business parks.
Industrial is even worse. Except for the Precup family, which has been developing Bucharest Distribution Park, sold to investment fund Immoeast, little local activity has happened on this market segment. The rest of the logistics market, still in its growing period, is made up of foreign companies.
A similar situation is to be found on the retail market. The important commercial projects belong to foreign developers. An exception is Iulius Group, the local developer which operates Iulius Malls in Iasi and Timisoara, and plans to open two more in Cluj-Napoca and in Suceava.
Mixed projects come from local minds
The first mixed projects in Romania were unexpectedly brought about by local developers. These projects are also the biggest in Bucharest, both in terms of the area they cover, and investments wise.
Baneasa Developments is building the Baneasa project. The development is supposed to soak up to EUR 1.2 billion of investments from the locally-owned company.
Sema Parc, another mixed development, is been carried out by locally-owned River Invest. The project needs EUR 700 million for completion.
These companies are not working on the projects without foreign helping hands, however. The projects benefit from professionals from abroad, like architects, consultancy firms and even loans from banks abroad. River Invest has even joined forces with German mall developers ECE to work on the commercial area featured in the project.
Impact is an example of a local developer very active on the development side. Both a contractor and a developer, the company, also listed on the Bucharest Stock Exchange, started with residential projects in Bucharest and in other cities, and has turned to offices. Its first office block, Construdava, went last year to Charlemagne Capital Fund's foreign hands.
Local vs. foreigner
Foreigners are putting money in, but what do locals give in exchange when they're not investing themselves? "Foreign developers and foreign investors usually prefer to have a partner in Romania," said real estate specialist Narcis Gorea. It takes more than money to succeed on a market, he says, it takes connections, knowledge of the market and a history on that market, which is why local firms are a must.
What sets local and foreign developers apart is the know-how, the access to financing and the connection to the market. Each of the two categories of developers has its advantages and disadvantages. Romanian developers don't have such easy access to foreign financing as their foreign counterparts do. One way of setting this straight is for local companies to list on the stock exchange. "At least three local developers are in discussions with corporate finance divisions in order to list on the stock exchange next year," said Ustinescu.
Local developers will also offer big surprises to the market in terms of know-how, on which at the moment they lag behind foreigners. Romanians are catching up fast and are learning from other developers' mistakes, explains the DTZ specialist.
Corina Saceanu