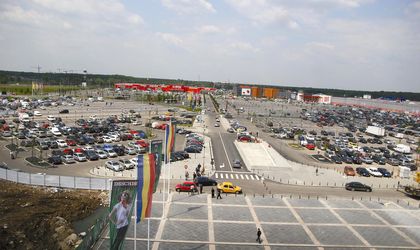 Belgian developer Liebrecht&wood is planning to build a retail park in the south-eastern part of the capital, according to Mediafax newswire. The park will include an outlet-type commercial center. The renting of spaces available in the first development phase, which cover 90,000 sqm, starts this summer.
"We have finished the master plan and are working to get all the permits, but we haven't started selling yet. (…) We will do that this summer," Johan Rogiers, managing director of Liebrecht&wood, told Mediafax, adding that work on the first phase of the project would take two years.
The scheme will be developed on a 60-hectare surface acquired last year by the company, which also owns the outlet commercial center Fashion House in the Militari neighborhood of Bucharest.
"We want to establish a shopping destination in that area. In the first phase we will build 90,000 sqm of rentable space, which will include an outlet store operated by Fashion House and other big-box outlets. We will start construction when we have signed preleasing contracts for 20-40 percent of the outlet surface and for one-two big-box outlets," Rogiers said.
He added that bank credit would be needed to finance the development of the project. "We have a good history; we don't have any project with problems. Of course it will be expensive; maybe we will need more of our own capital. We are not ruling out the possibility of attracting a partner, but we will accept this only if it will bring added value to the project," said the Liebrecht&wood rep. The Militari center has two phases, both of them finished. The outlet center totals 15,000 sqm and is 73 percent rented. The renting of the other phase will start only when the occupancy rate of the outlet reaches 90 percent. "We are in no hurry. We don't have any problems with the outlet. The indicators are all in line with what we have planned – density, revenues per sqm. Last year we had 1.5 million visitors (…) Our competitive advantage is the low prices, although because of the crisis most retailers have introduced discounts," Rogiers said.
Liebrecht&wood entered the local market at the beginning of the 2000s, when it started developing the Militari shopping center, which was sold to Atrium European Real Estate. At the same time, the company developed the office park Victoria Park close to DN1, which was sold to Immoeast. For the two properties, Liebrecht&wood cashed in around EUR 80 million.