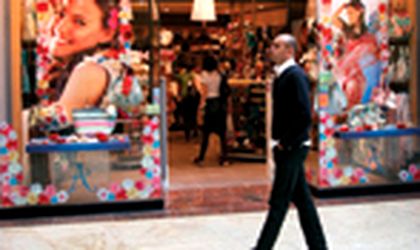 Opening a project on schedule is turning out to be a challenge for developers nowadays, and opening it at full capacity, even more so. Even for projects that started up before the real estate downturn had fully smashed into the Romanian market, it's tough to reach a balance between keeping occupancy rates up and keeping tenants happy. Shopping gallerias are among the worst hit by retailers' decreasing sales.
What can a developer do when battered retailers decide to withdraw from its project? "The correct attitude is flexibility," Shimon Galon, CEO of developer GTC in Romania, tells Business Review. GTC opened three Galleria projects last year and this year, the latest of which had a leasing level of 70 percent upon opening. By the end of the month, the firm's project in Piatra Neamt should reach an 85 percent occupancy rate.
This is an optimum occupancy rate, say pundits. "In the current climate it is proving very difficult for schemes to open at 100 percent occupancy. It is very much a case by case basis in determining minimum level of occupancy, but 80 percent is the minimum level which will be viable for landlords," Ben Binns, associate with King Sturge in Romania, tells Business Review.
Softer openings, even phased ones, are more common these days. "A 'softer' or phased opening helps to undo some of the negative aspect of a full opening with lots of empty units which creates a difficult impression to turn around for retailers and customers alike," says Binns.
Having a shopping galleria with empty spaces may not be that bad if developers keep a stable flow of income and as long as at least the anchors are in place. Losing an anchor, however, spells trouble. For example, GTC had to delay its Piatra Neamt shopping mall opening from spring to autumn this year because the anchor, Trident Supermarket, decided to withdraw from the project.
Among the measures a developer can take to ensure a stable source of income from its soon-to-open or even newly-opened retail project are a reduction in rent, covering furnishing costs, and in some cases even a lengthy rent-free period. GTC's Galon says the firm tries to surpass temporary problems by adapting contractual terms to the situation on the market.
Lower rents decrease the level of income the developer gets, but they could also attract a strong international brand who can 'lift' the scheme and generate footfall because of its customer draw, Binns explains.
Changing the mix of tenants is something which each shopping mall developer should master, even though in some cases it will be done only to refreshen the look and not as a last resort in difficult times. Anchor Group, which has been running two shopping malls in Romania for some years, has done it several times. Among the last changes it made to the mix of tenants was adding a Zara store to its Bucuresti Mall shopping center.
But for some retailers and even developers, there's a bright side in having vacancies. "Although the security of income is compromised, the vacancies do however create opportunities for some of the newer retailer entrants to secure space in existing schemes which have historically always had vacancy levels close to zero," says Binns.
Even if a tenant signs up for space in a shopping mall, they may still face problems after the opening and decide to withdraw. In theory, the leasing contract includes penalties for retailers in this case, but if the retailer is already facing insolvency, it has nothing more to lose. "It is, therefore, preferable to address and discuss means of help in the short term through regular and meaningful dialogue. But there are situations where, even if retailers trade well in the center, developer are being asked for rent concession in exchange for not leaving the facility," says the King Sturge associate.
Around 14 shopping centers opened across the country last year and this year. One of them has already been shut down. Developer RED recently decided to close the Armonia Braila retail project, which opened in November last year. The developer has decided to reposition it in six to nine months and include it in a discount shopping center in the area. It was the first such drastic measure taken by a developer in Romania, a young real estate market which hadn't experienced a real estate downturn before.
The remainder of those shopping malls are now trying to replace the retailers which have left with either discounters, which manage to thrive even at times like this, or with smaller retail units. Bucharest-based shopping centers stand a better chance of attracting new tenants, while regional centers, which used to count on demand from regional Romanian retail chains, may have been harder hit as those smaller players have downsized.