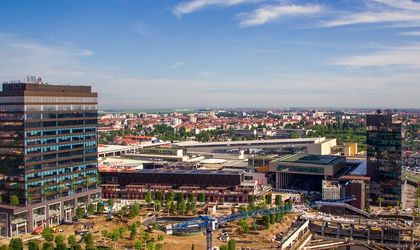 On August 30, 2019, Iulius and Atterbury Europe will open the first phase of the Iulius Town Timisoara project (formerly known as Openville), the largest real estate investment in the region, adding up to more than EUR 220 million. This is the first mixed-use development in the west of Romania and the most important real estate project to open this year on the Romanian market.
Designed as a project that includes retail, entertainment and office uses to complete the current Iulius Mall, Iulius Town will be the primary business, shopping and entertainment destination in the west of Romania. Concurrently, Iulius Town will be the city within downtown Timisoara, an urban regeneration project designed to unite the community and bring together locals, as well as people from the region and from neighboring areas, whether they work in the offices or visit for shopping, sport or relaxation.
The first phase of development will include 120,000 sqm of retail premises, new brands, a new cinema concept, the largest health and fitness center in Romania, a variety of restaurants and cafés, a park, an events center, 100,000 sqm of class A offices, a traffic underpass and 4,070 parking spaces.
The largest retail area outside of Bucharest
Iulius Town will have a total of 450 stores on 120,000 sqm, which will be the largest retail area outside of Bucharest. It will include new international brands, themed restaurants and cafés, with terraces and panoramic view overlooking the park, 12 movie auditoriums and VIP cinema, as well as the largest fitness center in Romania with a semi-Olympic swimming pool and playground areas.
Iulius Town will also feature a state-of-the-art conference center, comprising three elegant halls with a spectacular architectural design created by Italian designers. The halls will accommodate both business and private events, having a capacity of up to 1,000 participants.
A park as the project's main anchor 
The park in Iulius Town will be built atop a new underground parking lot, and is set to become an oasis of peace and relaxation. The park will delight visitors with more than 1,400 trees and 20,000 shrubs imported from nurseries in Italy and that will reflect into the lake fitted in the center of the park. A double-decker carousel, playground areas for children, a skating rink and event squares will also make this a unique venue in the region.
The first phase will also include 100,000 sqm of office premises accommodating approximately 13,000 employees. Comprised of class A office buildings, United Business Center has already become a regional business hub that generates new investments and jobs. The first three office buildings are currently fully operational, their tenants including multinational companies in the IT and automotive industry. The fourth office building will also be the tallest building in Romania. Standing at a height of 155 m and comprising 27 floors, United Business Center 0 will be completed next year and will include 52,000 sqm of leasable office premises, a medical hub spanning on an area of 3,000 sqm and a corporate conference center with seven halls.
Iulius Town Timişoara also entails investments in infrastructure upgrades. The project implements a smart solution for streamlining road traffic, namely a traffic underpass that cuts across the complex and increases road accessibility in the area; this investment will be donated to the municipality. Concurrently, the people working in Iulius Town and visitors coming here for leisure purposes have access to more than 4,070 modern parking spaces, as well as to bike parking facilities.
Iulius Town, phase 1 – key figures:
EUR 220 million investment
120,000 sqm of retail premises – the largest retail area outside of Bucharest
450 stores, cafés and themed restaurants
The largest fitness center in Romania – 3,400 sqm
100,000 sqm of office premises, 4 class-A buildings, regional business hub
13,000 employees in the office buildings
155 meters and 27 floors – the tallest building in Romania
Medical hub spanning on 3,000 sqm
3 event halls with a capacity of up to 1,000 participants
4,070 parking spaces