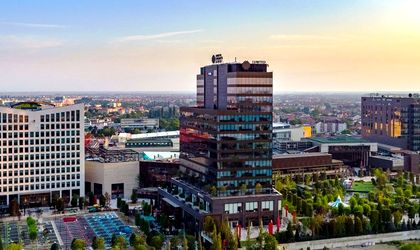 Iulius group and Atterbury Europe inaugurated today in Timisoara, the biggest city in western Romania, the joint project Iulius Town, following an investment totaling EUR 442 million. Iulius Town assumed the integration of Iulius Mall Timisoara in a large urban regeneration project, supplementing it with retail, office and entertainment functions.
Of the total value of the project, up to now EUR 327 million have already been invested, including Iulius Mall Timişoara, but developers plan additional EUR 115 million investment in the development of the tallest office building in Romania, currently under construction and projected to be finished by the end of 2020.
Iulius Town represents the first mixed-type assembly in the west of the country and the second in the portfolio of Iulius company, after Palas Iasi. It is a regional project, which is addressed to Timisoara, to clients from neighboring counties and from neighboring countries, Serbia and Hungary.
"In 2005, when Iulius Mall was opened in Timisoara, I knew we would not stop here, and our customers confirmed this expectation. Iulius Mall quickly integrated into the life of an audience that went beyond the country's borders and forced the continuation of the project on a much larger scale. Today, Iulius Town is the city of the city, a multifunctional project that generates added value for the community and the entire area. Together with our partner, Atterbury Europe, we have developed a regional business hub, which contributes to economic development, but also a cosmopolitan shopping and relaxation space, unique in Romania ", said Iulian Dascalu, president of IULIUS.

"In June 2017, I signed with Iulius a 50/50 percent joint venture to accelerate the rapid development rate for Iulius Town Timisoara and other projects. Our partnership produces solid results, as can be seen in the first absolutely impressive stage of mixed development with retail, entertainment and office buildings", said Henk Deist, CEO of Atterbury Europe.
Located in the center of Timisoara, Iulius Town is the most important real estate project inaugurated this year on the Romanian market. Iulius Town is a record sum: the largest retail area outside Bucharest – 120,000 sqm, 450 stores – and the largest offer of Class A office space in the region – over 100,000 sqm.
International brands for the first time, the most beautiful and newest store concepts available in Europe, as well as a variety of themed cafes and restaurants, with terraces and views to the green area, confirms Iulius Town as the number 1 destination in the west for shopping, the party leisure and socializing.
Among the new features include: Zara Home, Oysho, Peek & Cloppenburg, Liu Jo, Intimissimi, Marks & Spencer, Multibrand Distinctives – A | X Armani Exchange, Napapijri and Pepe Jeans London. Other brands at Iulius Mall have expanded their scope and implemented the most modern store concepts: Zara, Massimo Dutti, Pull & Bear, Bershka, Stradivarius, Guess, Mango, Sephora, Douglas and Musette.
The offer will be supplemented by an extension of the World Class, which will open the largest fitness center in Romania, with a semi-Olympic pool. Also, Cinema City will inaugurate an expanded multiplex cinema, with a capacity of 12 rooms and will implement, for the first time outside the Capital, the concept of VIP cinema, with dinner and film in the all-inclusive system.
Iulius Town also includes special food & beverage concepts, such as chic cafes and themed restaurants, with different culinary specifications: Mexican, Mediterranean, Lebanese, Italian, Greek, Serbian and Romanian.
The estimated annual traffic for Iulius Town is over 20 million visitors.
Iulius Gardens, the main anchor
The park in Iulius Town involved an investment of EUR 8.7 million and was carried out by a team of specialists from Italy, Germany and Romania. The green space integrates 10,000 shrubs and 1,400 large trees, transported from nurseries in Italy with over 500 trucks. Here, visitors will relax reading a book on the grass, the park benefiting from generous surfaces covered with special grass, which allows heavy traffic. Iulius Gardens also includes a lake, on an area of ​​800 square meters, a Venetian floor carousel for children, a gazebo, promenades and markets for outdoor events and fairs.
Iulius Town also has an ultra-modern conference center, with three elegant rooms and a capacity of up to 1,000 people, which will host business and private events.
Hub for business
The first stage of development of Iulius Town includes over 100,000 sqm of offices, in which approximately 13,000 people will work. The first three buildings are operational (50,000 sqm rentable), among tenants being multinational IT, automotive and customer support companies. The fourth office building, under construction, will be the tallest building in Romania. United Business Center 0 (155 m high, 27 floors) will include 52,000 sqm office leases, a 3,000 sqm medical hub, restaurants, shops and a conference center.
Iulius Town involved significant investments in infrastructure, totaling EUR 13 million. The streets in the vicinity of the project have been enlarged and modernized, and a two-lane car tunnel, which crosses the whole, contributes to the flow of traffic in the area. All these investments were or are to be donated to the municipality.
In addition to its functional role, the tunnel is a veritable mural art gallery of impressive dimensions, thanks to the works of 30 of the best graph-painters in the world. This project was developed on an area of ​​2,000 square meters and benefited from the participation of artists from Venezuela, Peru, Brazil, Mexico, Spain, Italy, the Republic of Moldova and Romania.
Also in terms of infrastructure, another EUR 40.7 million were invested in parking spaces (in a bunk and underground parking), the number of available places exceeding 4,000. To these are added the 800 spaces for bicycle parking throughout the whole.
Direct contributions to the local budget provided by Iulius Town are estimated at over EUR 6.5 million per year from building taxes.
Three days of festival
With the occasion of the inauguration, in Iulius Town are programmed three days of festival with special events, held under the slogan Luminăm #Timișoara Together. On August 30, the graffiti exhibition "UnderTown" opens in the car tunnel, with street art activations, and in the evening, Timisoara and tourists are expected at the "Microcosmos Acrobatic Show", a parade of giant mechanized structures, which will turn into scenes for aerial stunts.
On August 31, Timisoara will break a new Guinness World Records world record: most LED lights turn on simultaneously. The three days will end with the street art show "Constellations", a fantastic universe of constellations and the zodiac, transposed into huge balloons.