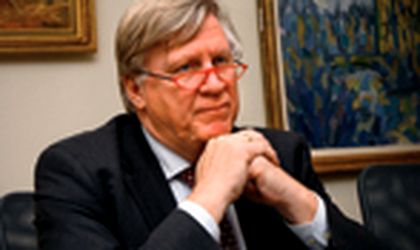 One year after ING Real Estate officially made its entrance to Romania, with ING Real Estate Investment Management, the company has brought a second soldier: its development division. Active since November last year, ING Real Estate Development already has three projects in the pipeline with a value of over EUR 400 million.
"For the time being, my hotspot is Romania," says Siep Hoeksma, managing director of ING Real Estate Development in Romania. He is also in charge of monitoring and implementing projects in Bulgaria and Turkey, but the three ongoing projects in Romania are currently on his table.
"We don't feel we're arriving in Romania too late. Our timing is extremely good in a sense, as we are being offered a lot of projects in the country, and we only have to choose between them," Hoeksma told BR.
His focus is on retail and residential in secondary Romanian cities and on offices in Bucharest. So far, only the opportunities in provincial cities have turned into ongoing projects. A EUR 200 million retail and residential scheme in Galati, and a similar-value, but mainly residential project in Brasov are keeping the ING Real Estate Development team busy for the time being.
A EUR 20 million retail project is planned for Iasi, a city where ING Real Estate Investment Management already owns Felicia Shopping Center commercial galleria, Hoeksma tells Business Review.
By the end of the year, ING RE Development Romania will run projects which will make up five percent of the company's portfolio, which exceeds EUR 1 billion, says the MD.
A building to sell, but no sale on the cards yet
Unlike other firms on the market, ING Real Estate Development is a trader developer, eschewing long-term ownership. Although it is too early for each of the three projects to discuss a sale, Hoeskma has previously sold projects even before putting them on the market.
"Sometimes the purchaser comes forward during the process and makes an offer you can't resist," says Hoeksma.
He hopes to start construction works on the Galati and Iasi projects by the end of this year, and while the one in Galati should take three to four years to complete, the one in Iasi should be ready next year.
"Brasov is also a long-term project, but we are looking at short-term opportunities as well," says Hoeksma.
In most cases, buyers for ING RE Development projects come from outside the group.
"They were mainly fund managers, pension funds and property funds," says Hoeksma. British Land is one of the buyers for the company's projects in the UK, where Hoeksma has been working with ING RE Development for the last ten years.
ING REIM has also bought projects from the development arm of the group. "If they come in earlier and are prepared to pay my price, then they buy," Hoeksma explains. "It is a good business model, because this way I deliver projects the market demands."
Although he receives weekly offers of land across the country, Hoeksma has not yet bought any plot for ING RE Development. Aside from the fact the company is not land banking, it prefers to get into partnerships with land owners.
It was the recipe used for the projects in Galati, Iasi and Brasov, where the company has entered partnerships with owners of 14, 2.5 and 15 hectares of land, respectively.
Bucharest still offers enough suitable land for a developer to plan an area development, rather than unique and incidental projects, says Hoeksma. More opportunities for such area developments are however in regional cities, and ING RE Development plans to pursue them as well.
The cost of land in Romania is not a real concern for Hoeksma, as, he says, "It is not about how much they are asking, but about how much you are willing to pay for the land."
To make it interesting for the company, a piece of land needs to be of at least four hectares, says Hoeksma.
"I have also received offers of advanced projects, but we couldn't have added a lot of value to those projects, as they mostly needed financing and we are developers," says Hoeksma.
ING Real Estate Development gets its financing either from the bank in the group or from others on the market. Typically, around half of a project is financed with the firm's own equity, and the rest comes from the bank.
The worldwide financial turmoil and its effect on real estate in putting a break on bank financing will result in a need for higher quality projects. Banks will look at the quality of projects developers put up as collateral, and investors will be more critical than ever, Hoeksma predicts.
Corina Saceanu